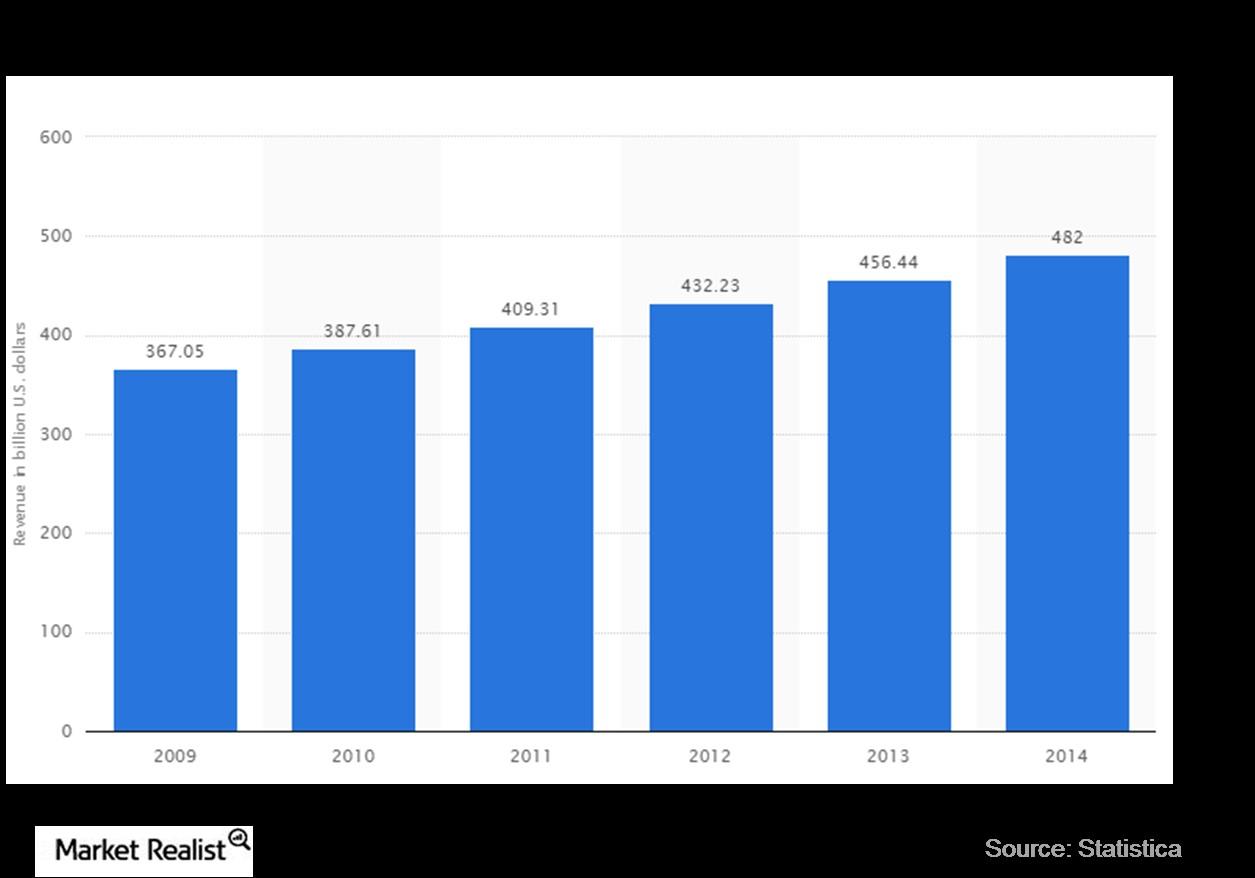 An Overview of US Gas Stations with Convenience Stores
A look at gas stations with convenience stores
In the current section, we'll take a look at the industry in which Casey's General Stores (CASY) operates. Casey's, as per the North American Industry Classification System (NAICS), falls under the sub-category of gas stations with convenience stores.
This category earns the majority of its revenue from the sale of fuel, although store owners are increasingly relying on inside store sales, which typically have higher margins. Casey's, for example, derives more than 65% of its revenue from fuel sales, while 70% of its gross profit comes from the sales of groceries and prepared food.
Article continues below advertisement
Convenience stores account for the majority of fuel sales in the United States
As per Stastica, revenue generated by the gas stations with convenience stores industry stood at $482 billion in 2014, growing at a compound annual growth rate (or CAGR) of 6% between 2009 and 2014. The total number of convenience stores in the United States stood at 154,000 as of December 31, 2015.
According to the 2016 Nielsen Convenience Industry Store Count, around 80% of the fuel sold in the United States is sold through convenience stores. More than 63% of convenience stores selling fuel are single-store operators. Texas (16,000 stores), California (12,000 stores), and Florida (9,909 stores) are the top three states in terms of store count.
7-Eleven, with around 8,300 stores, is the biggest convenience store chain in the United States, followed by Couche-Tard with around 7,300 stores, Speedway with around 2,800 stores, and Casey's with around 1,900 stores.
Convenience stores compete with big-box grocery stores such as Kroger (KR) and mass merchandising stores such as Walmart (WMT) and Costco (COST). According to Energy Analysts International, retail fueling sites accounted for 13.8% of fuel sales in the United States as of May 2014. With 1,330 fuel stations, Kroger is the biggest player in this segment.
Investors looking for exposure to Casey's can invest in the iShares Russell 2000 Growth ETF (IWO), which has around 0.53% of its holdings invested in the company.
Read the next section to get a better understanding of Casey's financial performance over the last five years.