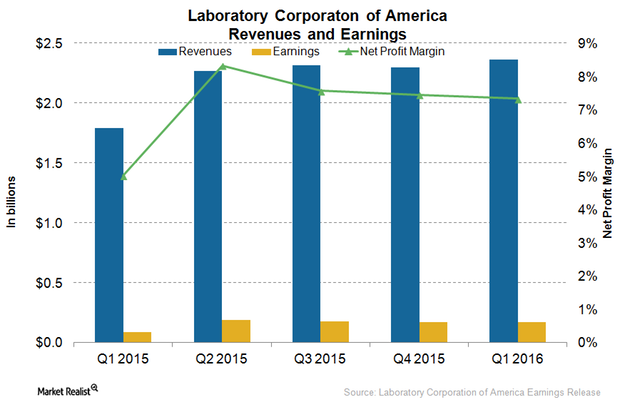 Must-Read Notes on LabCorp's 1Q16 Earnings and Conference Call
By Margaret Patrick

Apr. 27 2016, Updated 3:50 p.m. ET
1Q16 earnings overview
Laboratory Corporation of America (LH), or LabCorp, posted its 1Q16 earnings on April 25, 2016. The company registered adjusted diluted earnings per share (or EPS) attributable to common shareholders of $2.02, which is 15% higher than the EPS reported by the company in 1Q15.
In 1Q16, LabCorp earned $2.4 billion in revenues, which was a rise of 32% on a year-over-year (or YoY) basis. This is mainly attributed to solid organic revenue growth witnessed by the company's LabCorp Diagnostics and Covance Drug Development segments.
Article continues below advertisement
The company's net profit margin also rose by about 46.2% on a YoY basis as LabCorp (LH) managed to realize cost synergies from the acquisition of Covance in 1Q16. Profit margins were also boosted due to business process re-engineering efforts initiated by the company through Project Launchpad. This project is expected to generate cost savings of about $150 million by 2017.
If LabCorp manages to realize this savings projection, it may boost the company's share prices as well as those of the SPDR S&P 500 ETF (SPY). LabCorp makes up ~0.07% of SPY's total portfolio holdings.
In 1Q16, LabCorp's peer company Quest Diagnostics (DGX) managed to earn revenues of about $1.9 billion. Its competitors Opko Health (OPK) and Davita Healthcare Partners (DVA) are expected to earn revenues of about $266.4 million and $3.5 billion, respectively.
Share price movement
Share prices of diagnostic testing companies are highly correlated with those of pharmaceutical and biotechnology companies, as both categories of healthcare companies are affected by similar macroeconomic factors.
On February 4, 2016, the Congressional hearing by the Committee on Oversight and Government Reform addressed issues related to drug pricing and transparency. The members also reiterated the need to increase generic competition in the pharmaceutical market.
Increasing political risks faced by the pharmaceutical and biotechnology industry also affect the diagnostic testing sector. In uncertain times, pharmaceutical companies reduce their research and development (or R&D) budgets, which subsequently reduced revenue and profitability growth for diagnostic testing companies. This relationship affected LabCorp, which witnessed a brief decline in share prices between February 4–February 11, 2016.
Since the release of its 4Q15 earnings results, LabCorp (LH) has witnessed a solid 15.2% rise in its share price from $108.60 on February 18, 2016, to $125.10 on April 25, 2016, mainly due to strong business fundamentals.
In the next article, we will explore LabCorp's revenue growth strategy in 1Q16.