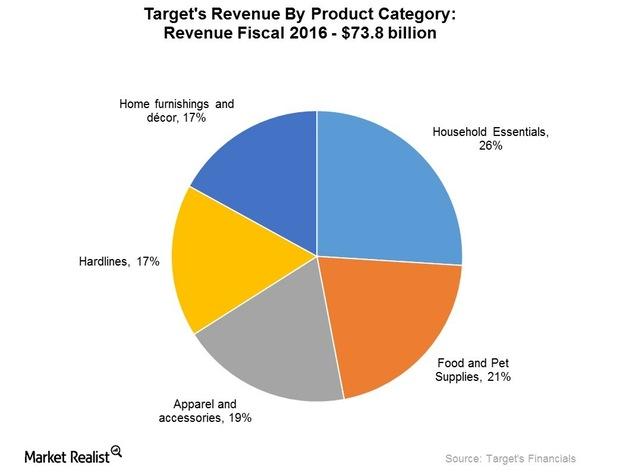 Merchandise Mix: Which Categories Are Performing Best at Target?
Target's fiscal 2016 performance by merchandise category
In fiscal 2016, Target's (TGT) performance was upbeat for all merchandise categories except for hardlines.
While toys and wearables, which are included in the category, posted strong growth, sales faced headwinds due to the secular falls faced by the electronics category in general, even among competing retailers such as Best Buy (BBY), in categories such as tablets and personal computers.
Household essentials are Target's largest product category, accounting for about 26% of the retailer's sales in fiscal 2016, or around $19.2 billion. The category includes household consumer goods, household items, and sales from Target's pharmacy business.
Article continues below advertisement
Article continues below advertisement
Due to the company's sale of its pharmacy and clinics business to CVS Health (CVS) last December, sales from the household essentials category are likely to post a fall this fiscal year on a comparable basis. Target's guidance anticipates a 3%–4% fall in total sales in fiscal 2017 due to this factor.
Food and pet supplies is Target's second-largest product category. It accounted for ~21% of sales, or ~$15.5 billion, in fiscal 2016. We'll discuss Target's plans for its food and grocery business in greater detail later in this series.
Target's home furnishings and décor category accounted for about 17% of its fiscal 2016 sales. Due to the retailer's recent focus on style, the home category's business performance was the best the company has seen in the last ten years.
Sales upside was also provided by an upbeat market for home furnishings and home improvement, which benefited retailers such as Home Depot (HD) and Wayfair (W).
Target makes up ~1.3% of the portfolio holdings of the iShares S&P 500 Value ETF (IVE).
Signature categories
Over the past few quarters, Target's sales performance has improved dramatically due to the company's focus on particular product segments, which the company terms Signature Categories. The next article discusses these categories.