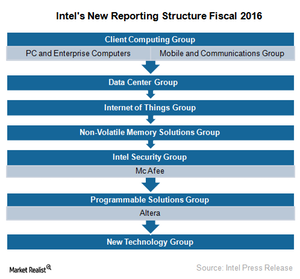 A Look at Intel's New Reporting Structure
Intel changes its reporting structure
In the previous part of the series, we saw that Intel (INTC) has been shifting its focus away from PCs (personal computers) to the high-growth data center and IoT (Internet-of-Things) markets. Even Qualcomm (QCOM) and Advanced Micro Devices (AMD) are eyeing these high-growth markets.
Intel is expanding its product portfolio to offer a comprehensive solution to its cloud customers such as Microsoft (MSFT). The company is changing the reporting of its earnings to reflect these changes. The new structure will come into effect with Intel's fiscal 1Q16 earnings, due to be released on April 19, 2016.
Other than the new structure, Intel announced the departure of three top executives Aicha Evans, Kirk Skaugen, and Doug Davis, heads the company's mobile, CCG (Client Computing Group), and IoTG (Internet of Things Group) businesses, respectively.
Article continues below advertisement
Article continues below advertisement
Intel's new reporting structure
Instead of four, Intel will now have seven business segments. There will be no changes in the three major business segments of CCG, DCG (Data Center Group), and IoTG, which together account for more than 90% of the company's revenue.
However, the company will dissolve the SSG (Software and Services Group) segment and report its earnings in the respective segments in which software solutions are provided.
Four new business segments will be added, namely NSG (Non-Volatile Memory Solutions Group), ISecG (Intel Security Group), PSG (Programmable Solutions Group), and NTG (New Technology Group). None of the four segments currently generate sufficient revenues to qualify as separate operating segments, but the company hopes that they will grow to such levels as other segments shrink.
New business segments
The Non-Volatile Memory Solutions Group will include NAND products, SSDs (solid state drives), and 3D XPoint. Here, the company will collaborate with Micron Technology (MU) to develop and manufacture products. It's currently ramping up a memory plant in China (MCHI).
The Intel Security Group will include security software products developed by Intel's subsidiary McAfee.
The Programmable Solutions Group will include FPGA (field-programmable gate array) and related products from Altera, which Intel acquired in 2015.
The New Technology Group will include computing technologies that are at a perceptual stage, such as quantum computing. It will also include technologies designed for drones and other niche markets.
We'll look at each of the seven segments in detail in the coming parts of the series.