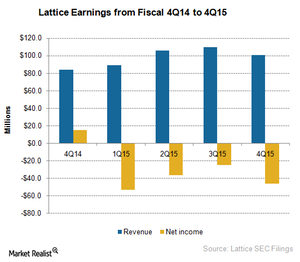 Lattice Semiconductor's Earnings Hit by Weaker Smartphone Sales
Lattice Semiconductor's financial position
In the previous part of this series, we saw that China's (MCHI) Tsinghua Unigroup has purchased a 6% stake in Lattice Semiconductor (LSCC) and is looking to buy more shares in the near future. This has raised speculation about a possible takeover of LSCC by Tsinghua Unigroup.
There have been rumors that Lattice Semiconductor is looking for a potential buyer after its fiscal 4Q15 earnings and guidance missed analysts' estimates by a large margin. Let's look at the company's current financial position.
Article continues below advertisement
Article continues below advertisement
Fiscal 4Q15 highlights
On a non-GAAP (generally accepted accounting principles) basis, Lattice Semiconductor's revenue fell 8% quarter-over-quarter to $101.3 million in fiscal 4Q15, as sales of both its products—FPGAs (field-programmable gate arrays) and imaging sensors—fell due to weakness in the smartphone market and consumers' shift to mid- and low-end smartphones. We're comparing earnings on a quarter-over-quarter basis because the fiscal 2015 earnings include the earnings of Silicon Image, which Lattice Semiconductor acquired at the beginning of 2015.
Lattice Semiconductor's key customer, Samsung Electronics (SSNLF), has reported a decline in smartphone sales and changed its focus to new models of low-end phones. This led to reduced orders from Samsung for FPGAs and imaging sensors, which provide features for high-end phones.
In February 2016, FBR & Co. analyst Christopher Rolland hinted that Lattice Semiconductor has secured orders from Apple (AAPL). If this is true, it may have a positive impact on Lattice Semiconductor's revenue. However, the overall slowdown in the smartphone market is likely to have a long-lasting impact on the company.
Combined FPGA orders from communication customers Huawei Technologies Co. and ZTE also fell by almost 25%, as LTE deployment in China slowed down. This slowdown also impacted Qualcomm (QCOM), which reported a 19% YoY (year-over-year) decline in revenue in fiscal 1Q16. Further, the United States has banned any export of US commodities to ZTE after the company breached export conditions.
Article continues below advertisement
Profitability
On the profitability front, Lattice Semiconductor's non-GAAP gross margin fell from 55.7% in fiscal 3Q15 to 54.6% in fiscal 4Q15. It reported a loss per share of $0.04 in both fiscal 3Q15 and fiscal 4Q15.
Cash position
As of January 2, 2016, the company had $102.5 million in cash reserves and long-term debt of $330.8 million. This means that the company doesn't have sufficient cash to repay its long-term debt.
While a weak financial position makes Lattice Semiconductor a good acquisition target for Tsinghua Unigroup, the acquisition is unlikely to happen due to restrictions by US authorities. We'll shed more light on this topic in the next part of this series.