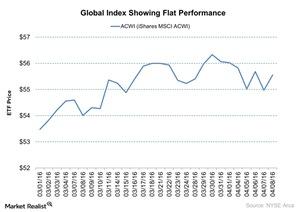 Analyzing Global Economic Indicators and What They Suggest
By Sarah Sands

Apr. 11 2016, Published 8:19 a.m. ET
Economic indicators
There are various economic indicators that came out in the past week. They include:
US balance of trade
US factory outputs
Eurozone unemployment rate
Economic indicators are important measures. They show the economic health of any country. Economic indicators show the short-term trend in the economy.
Article continues below advertisement
Series overview
All of these important indicators suggest limited upside for global markets (ACWI). US crude oil stockpiles fell on a weekly basis. The US balance of trade widened for February. The US factory output fell in February. It indicated that there's a slowdown in economic activity in 1Q16. The Eurozone's unemployment rate stood at 10.3%—the lowest since August 2011. Japan's consumer confidence improved in March. Going forward in this series, we'll discuss each economic indicator individually. In the next part of this series, we'll discuss how the fall in US crude oil stockpiles impacted crude oil's movement.