Why Did China's GDP Grow in 1Q16?
According to the NBS (National Bureau of Statistics of China), China's GDP grew 6.7% in 1Q16.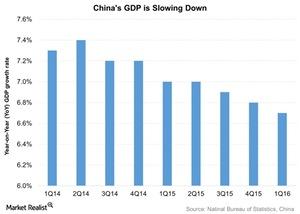 China's GDP data
According to the NBS (National Bureau of Statistics of China), China's GDP grew 6.7% in 1Q16—the slowest pace since 2009. Although this was only slightly slower than the 6.8% growth in 4Q15, it indicates that the Chinese economy has started to stabilize. The reforms introduced by Chinese authorities may be showing results.
According to the NBS, "the Central Party Committee and the State Council have maintained the strategic focus, comprehensively arranged both domestic and international tasks, adhered to the general work guideline of making progress while maintaining stability, actively adapted to and led the new normal, guided new practices with new theories, strived for new development with new strategies, innovated macro-regulation, deepened the structural reform and pushed forward 'mass entrepreneurship and innovation'. As a result, the economy has achieved moderate but stable and sound development."
Article continues below advertisement
Article continues below advertisement
Positive economic data
In March, the Chinese economy picked up. Exports rose 11.5% year-over-year for the first time since June 2015. Meanwhile, industrial production grew by 6.8%, compared with January's and February's average of 5.4%. Fixed asset investments grew by 10.7% and retail sales grew by 10.5%. Furthermore, new yuan loans also rose, which indicates that credit facilities are easily available to businesses.
Impact on mutual funds
An economy's GDP reflects its overall growth. China was a star performer ten years back, but is now struggling. Although mutual funds are mostly bottom-up focused, a slowdown of this scale impacts instruments across the board, and mutual funds are no exception.
The global slowdown in demand impacts the performance of mutual funds such as the Clough China Fund – Class A (CHNAX), the Fidelity Advisor China Region Fund – Class A (FHKAX), and the Guinness Atkinson China and Hong Kong Fund (ICHKX). These funds invest in companies such as Alibaba Group Holding (BABA), Baidu (BIDU), JD.com (JD), NetEase (NTES), and 58.com (WUBA). In the next part of this series, we'll review China's export and import data.