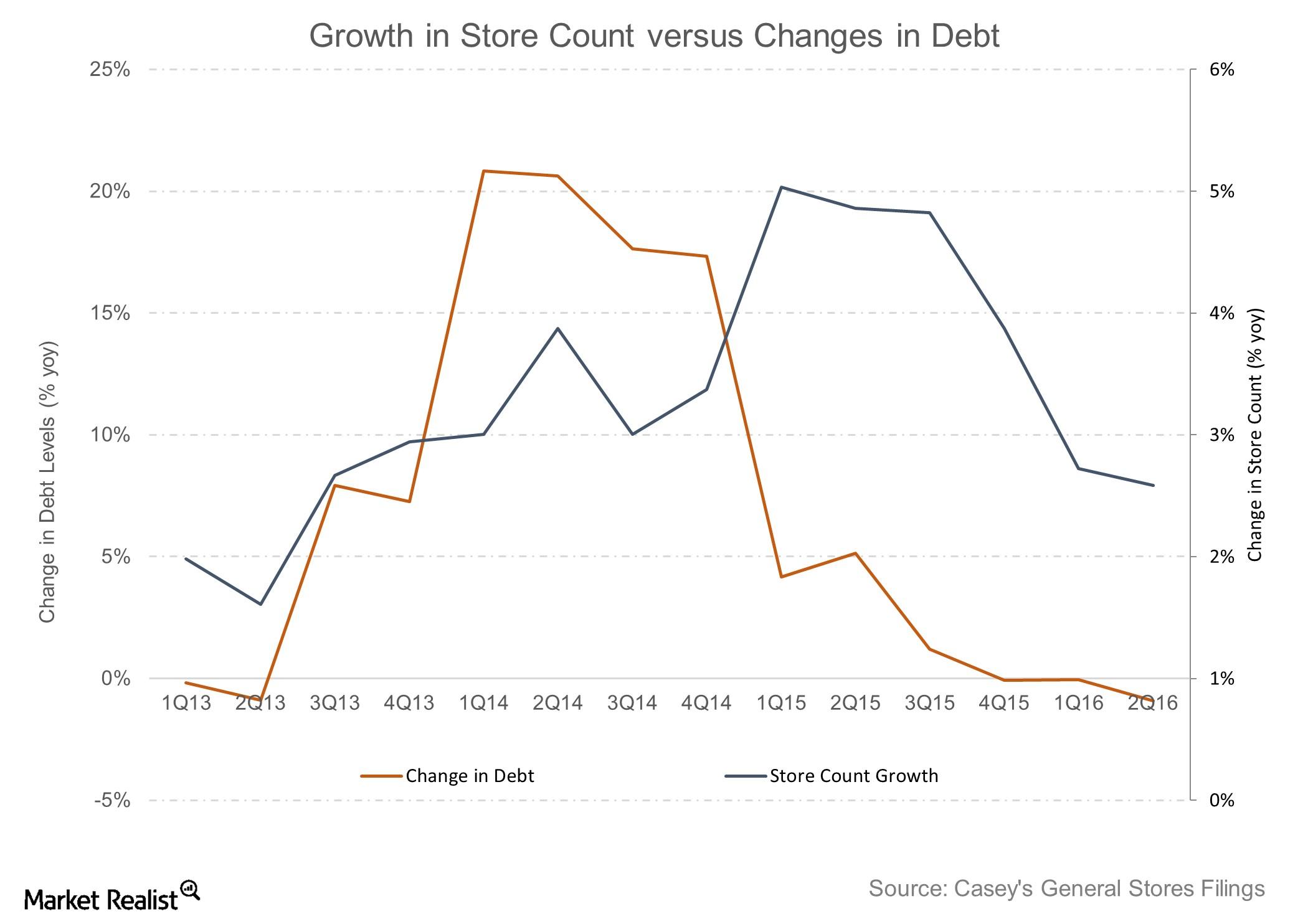 Casey's Strengths, Weaknesses, Opportunities, and Threats
By Sonya Bells

Apr. 27 2016, Updated 11:04 a.m. ET
Strengths, Weaknesses, Opportunities, and Threats
Now, let's conduct a SWOT (strengths, weaknesses, opportunities, and threats) analysis for Casey's General Stores (CASY).
Article continues below advertisement
Strengths
Casey's has a strong, differentiated, low-risk business model. In fiscal 2015, 82% of Casey's stores were located in areas with populations of fewer than 20,000 people. The company mentioned in its annual report that it was able to generate profits even when the population of a locality was as low as 400 people.
Stores that are located in less-populated areas are able to avoid competition and are sometimes the only option available to the local inhabitants.
The company has taken a disciplined approach to store growth while keeping its balance sheet in check and remaining solvent. CASY's management has successfully grown the business by identifying key elements that affect it.
Weaknesses
Casey's stores are concentrated mainly in three US states: Iowa (505 stores), Missouri (326 stores), and Illinois (422 stores). Negative economic developments in these states could adversely impact Casey's business.
Article continues below advertisement
Opportunities
Casey's ~1,900 stores are solely located in the Midwest, which means there's enough scope for the company to grow its already established business in other parts of the country.
Initiatives such as adding pizza delivery to stores, converting stores to 24-hour formats, and remodeling old stores provide new opportunities for same-store growth.
Threats
Volatility in oil prices remains the largest threat to the company's business, as fuel sales constitute 66% of its sales.
The company's traditional market, the rural Midwest, seems to be saturated, which has been forcing the company to open stores in urban areas. In bigger localities, the company faces competition not only from other convenience stores such as 7-Eleven, CST Brands (CST), and Murphy USA (MUSA), but also from bigger hypermarket chains such as Kroger (KR) and Walmart (WMT), which offer products at competitive prices.
Casey's, CST Brands, Murphy USA, and Kroger make up part of the SPDR S&P Retail ETF (XRT). Together, these companies account for 4.4% of the index's weight.