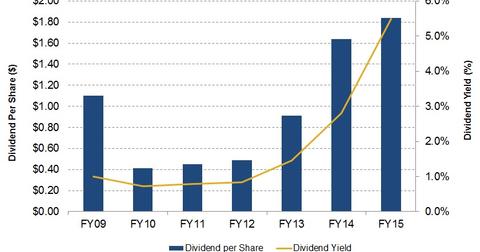 Analyzing National Oilwell Varco's Dividend and Dividend Yield
By Alex Chamberlin

Updated
National Oilwell Varco's dividend and dividend yield
National Oilwell Varco (NOV) increased its dividend from 2009 to 2015. In 2015, National Oilwell Varco's dividend per share (or DPS) rose 12% to $1.84 compared to $1.64 in 2014. Although National Oilwell Varco's net earnings turned negative in 2015, its strong dividend reflects its management's confidence in the company's balance sheet.
NOV's industry peer Diamond Offshore Drilling (DO) discontinued its quarterly dividend in February 2016. Core Laboratories' (CLB) 4Q15 dividend was 10% higher than a year ago. Baker Hughes (BHI) kept its quarterly dividend unchanged for the past year until 4Q15.
Dividend yield, expressed as dividend per share relative to share price, has generally been on the rise from 2011 to 2015. From 2014 to 2015, NOV's share price fell 49% while its DPS rose. NOV's dividend yield shot up from 2.8% as of December 31, 2014, to 5.9% as of March 31, 2016.
Earlier, from 2009 to 2014, NOV's share price rose 65% while its DPS rose 49%. In effect, its dividend yield increased from 1.0% as of December 31, 2009, to 2.8% as of December 31, 2014.
Article continues below advertisement
National Oilwell Varco's shareholder returns
National Oilwell Varco returned $2.9 billion to its shareholders in 2015 through dividends and share repurchases. NOV completed its share repurchase program during 3Q15. National Oilwell Varco makes up 0.06% of the SPDR S&P 500 ETF (SPY).
Next, we'll discuss NOV's historical valuation multiples.