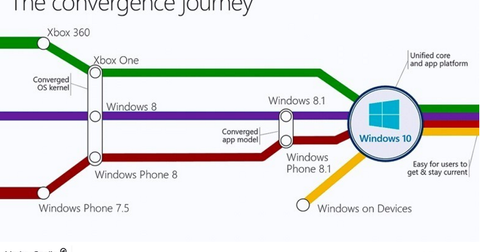 Will Microsoft's UWP Technology Be Successful?
By Anne Shields

Apr. 5 2016, Updated 8:07 a.m. ET
Microsoft believes in the success of its UWP technology
Previously, we discussed how Microsoft's (MSFT) UWP (Universal Windows Platform) initiative is pushing its Windows 10 OS (operating system) to become a common platform for all computing devices and to entice developers to develop cross-device programs.
Commenting on Microsoft's UWP technology, J.P. Gownder, an analyst with Forrester Research, said, "This is the best option Microsoft could have come up with."
Article continues below advertisement
Microsoft's Windows 10 predecessor, Windows 8, included software called Windows Runtime, which enabled developers to create programs for laptops, desktops, smartphones, and tablets. Microsoft is more hopeful for its UWP technology. Unlike its predecessors, Windows 10 is designed to run on a plethora of Microsoft devices.
It remains to be seen whether Microsoft's claim regarding UWP technology will hold water or not. Apps designed for different platforms such as PCs (personal computers), smartphones, and game consoles offer varied experiences and may not provide the same satisfaction when used interchangeably.
For instance, a game designed for a console with a controller or joypad with triggers, buttons, and thumbsticks will not provide the same enjoyment if played on a PC with a mouse or a smartphone with a touchscreen. According to Ars Technica, Japan-based (HEWJ) Sony (SNE) commands more than half of the global gaming console space.
Similarly, apps developed for PCs, including budgeting and personal finance programs, may not have the same usefulness on a game console.
Microsoft's UWP technology has found some takers
PicsArt is a company that makes a photo-editing app titled PicsArt and has over 65 million monthly active users on Apple's (AAPL) iOS, Google's (GOOG) (GOOGL) Android, and Windows Phone devices. PicsArt used Microsoft's Windows Runtime. Though this was cross-device technology, PicsArt was required to maintain multiple app versions, as stated by the Wall Street Journal.
However, with UWP, PicsArt states that it has managed to "develop one package that works across all platforms. Because of that it's easier for us to build and maintain." The company further shared that though its Windows Phone customer base is its smallest, UWP has helped it to find new users on desktops and laptops that run Windows 10 OS.