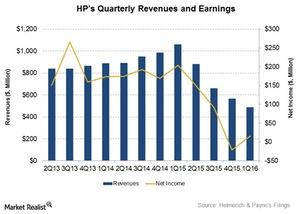 Behind Helmerich & Payne's Value Drivers in Fiscal 2Q16
By Alex Chamberlin

Mar. 24 2016, Updated 1:06 p.m. ET
Helmerich & Payne's revenue growth
Helmerich & Payne's (HP) revenues have been in a downtrend from fiscal 2Q15 to fiscal 1Q16. In that period, Helmerich & Payne's US Land Operations segment revenue declined by 58%. HP's International Land Operations segment revenue was the most resilient of all segments, declining by only 25% during the same period.
By the end of fiscal 2015, 170 of HP's rigs were under contract—significantly less than the 325 contracted rigs a year ago. But by the end of fiscal 1Q16, only 93 rigs were under contract. The falling rig count, primarily in the US onshore space, led to lower revenues. Helmerich & Payne makes up 0.07% of the Vanguard High Dividend Yield ETF (VYM), but for investors looking for exposure to the oil and gas sector, oil and gas account for 9.9% of VYM.
Article continues below advertisement
Explaining Helmerich & Payne's net income
In fiscal 1Q16, Helmerich & Payne's reported income was ~$16 million as compared to $203.6 million in net income in fiscal 1Q15. Helmerich & Payne's fiscal 1Q16 reported earnings were positively impacted by gains from early contract termination compensation from customers, and the sale of used drilling equipment. In comparison, Core Laboratories (CLB), Helmerich & Payne's smaller market cap peer, recorded ~$15 million net income in fiscal 4Q15.
Two major factors negatively affected HP's earnings in fiscal 1Q16:
50% lower offshore rig revenue and 62% lower offshore rig margin per day
significantly lower revenue days in US land and international operations
Higher international rig revenues and international rig margins per day positively affected HP's earnings.
Is Helmerich & Payne gaining market share?
HP has been actively trying to reduce rig expenses through reducing field overhead costs and direct operating costs on active rigs. Also, the energy production has increasingly shifted to longer laterals, multi-well pads, and complex well designs. These require the use of AC rigs in contrast to legacy mechanical or SCR (silicon-controlled rectifier) rigs.
HP has a fleet of 320 AC drive FlexRigs. In the company's fiscal 1Q16 conference call, HP's management commented on the increased use of advanced rigs and how this has enabled HP to double its market share to 18% by the end of 2015 compared to 2008. A higher share of AC-driven rigs will be a Helmerich & Payne's value driver going forward.
Continue to the next part for a look at Helmerich & Payne's free cash flows.