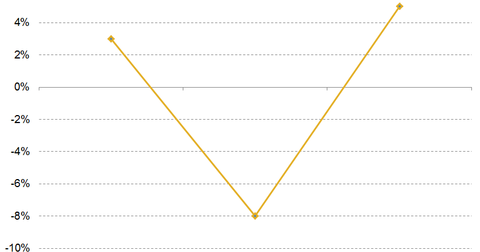 What Will Drive Routing Growth for Cisco?
By Adam Rogers

Updated
Cisco expects surge in mobile users
A rise in the penetration of mobile devices such as smartphones and tablets will drive the demand for mobile data. Telecom companies may look to upgrade their networks to support and monetize traffic growth. Escalating mobile data traffic will have a positive impact on router sales.
According to the Cisco Visual Networking Index's (or VNI) Global Mobile Data Traffic Forecast released in February 2016, the surge in mobile users, smart devices, and machine-to-machine connections is expected to increase mobile data traffic eightfold by 2020. Cisco (CSCO) also forecasts that mobile video will have the highest growth rate of any mobile application.
Article continues below advertisement
The report states, "A new generation of robust, high performance wireless networks will be critical in facilitating this growth, and 5G networks will be instrumental in helping the industry develop a new economic model for offering new services for digital business transformation — the rapid and escalating value derived from the interconnectivity of people, processes, data and things."
NGN Routing segment's revenue rose 5% YoY in fiscal 2Q16
The revenue from Cisco's NGN (Next Generation) Routing segment rose 5% in fiscal 2Q16 to $1.9 billion. The NGN Routing segment accounts for 15.6% of the company's total revenue. The routing business reported an 8% year-over-year (or YoY) fall in revenue in fiscal 1Q16 after posting 3% YoY growth in fiscal 4Q15. The fall in fiscal 1Q16 was a result of negative growth due to changes in telecom service providers' spending plans.
Cisco stated, "We saw our routing business grow 5%, driven by double-digit growth in our CRS platforms, with particular strength in mobility and web-scale service provider."
In the core router segment, Cisco and Juniper Networks (JNPR) had earlier accounted for over 80% of the total market. This scenario changed with the reentry of Alcatel-Lucent (ALU) in 2012. Alcatel-Lucent's market share in edge routing grew to 24%. The company edged out Juniper Networks to become the number-two vendor in this segment in 2010, despite entering the market in 2003.
Alcatel-Lucent can use this platform as leverage to increase its market share in the core router segment as well. Alcatel-Lucent was acquired by Europe's (EFA) Nokia (NOK) in 2015.