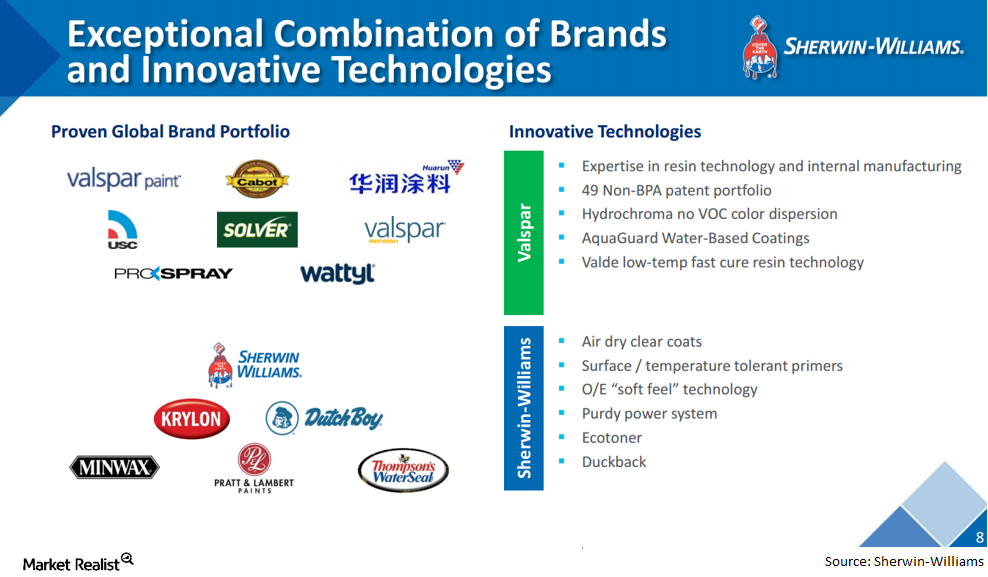 What's the Rationale for the Valspar and Sherwin-Williams Merger?
Complementary transaction for Sherwin Williams
Article continues below advertisement
Management's comments
John G. Morikis, president and CEO of Sherwin-Williams, said that "Valspar is an excellent strategic fit with Sherwin-Williams. The combination expands our brand portfolio and customer relationships in North America, significantly strengthens our Global Finishes business, and extends our capabilities into new geographies and applications, including a scale platform to grow in Asia-Pacific and EMEA. Customers of both companies will benefit from our increased product range, enhanced technology and innovation capabilities, and the transaction's clearly defined cost synergies. We have tremendous respect for the expertise and dedication of the Valspar team and we are excited about the opportunities that this combination will provide to both companies' employees. Sherwin-Williams will continue to be headquartered in Cleveland and we intend to maintain a significant presence in Minneapolis. Sherwin-Williams has a long track record of successfully integrating acquisitions."
Synergy estimates
The companies anticipate that the transaction will be immediately accretive to cash flow per share excluding one-time merger costs. They anticipate that they will achieve synergies of $280 million in the year after closing. Within two years, they expect to achieve a synergy run rate of $320 million per year.
Other merger arbitrage resources
Other important merger spreads include the Dow Chemical (DOW) and DuPont (DD) deal. It's slated to close in 2H16. The Apollo-ADT (ADT) merger is another important deal. For a primer on risk arbitrage investing, read Merger arbitrage must-knows: A key guide for investors.
Investors who are interested in trading in the retail sector should look at the Materials Select SPDR (XLB).