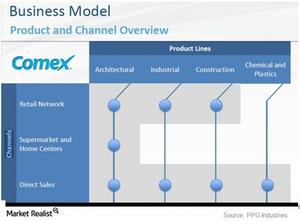 Understanding the Business Models of Specialty Chemical Companies
Business model for architectural coatings
Companies in the specialty chemical industry (VAW) have fewer intermediaries in their distribution network as they move away from paints and coatings to more specialized chemical businesses. The image below depicts the business model of Comex Mexico, which was acquired by PPG Industries (PPG) in June 2015.
Since architectural coating companies have both retail as well as industrial consumers, products are sold through more diverse channels such as company retail stores, independent dealers, big box retailers, home centers, and hardware chains. Company retail stores have extensive product offerings, which requires a significant amount of inventory to be held on location.
Article continues below advertisement
Based on the amount of turnover, companies generally alter product replacement cycles, safety stock levels, and premiums charged for holding high levels of inventory. Among other strategies, companies also enter into exclusive agreements with certain big brand retailers that have strong customer bases due to their loyalty-based incentive programs. For example, retailer Lowe's stopped carrying a few paint lines of Valspar (VAL) after Sherwin-Williams (SHW) replaced Valspar as Lowe's exclusive partner. The project revenue loss for Valspar by the loss of this partnership was projected at around $150 million.
Business model for various segments of specialty chemicals
Other products in the specialty chemicals industry (IYM) are sold directly to their end market customers. Often, companies in this business have an in-house sales team that has individual agents reach out and deal directly with clients. Once the deal is clinched, products are specified, and favorable reviews are posted in initial stages, progression into longer term contracts where prices are fixed by year become common for many companies. Companies also engage indirect sales channels like third-party agents and distributors as supplements to their direct sales strategies.
Now let's look at some of the biggest challenges facing this industry going forward.