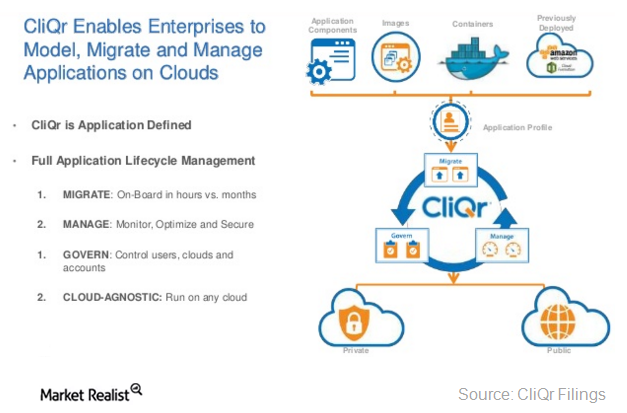 The Truth behind Cisco's Acquisition of CliQr Technologies
CliQr Technologies: Cisco's latest acquisition in the cloud
Previously in this series, we discussed how IBM (IBM) and VMware's (VMW) recent partnership in the hybrid cloud space will bring synergy to both the companies. It appears that not only IBM but also Cisco is aggressively pursuing acquisitions going forward.
On March 1, 2016, Cisco Systems (CSCO) announced the acquisition of CliQr Technologies for $260 million. CliQr Technologies provides application-centric hybrid cloud management software. CliQr's CloudCenter technology enables users to create a single app profile that can be deployed across multiple environments, servers, data centers, and clouds. Apart from providing a common platform to manage cloud environments, apps, and users, this approach optimizes app performance and ensures consistency in policies across locations.
Article continues below advertisement
Compatible with leading cloud provider offerings?
CliQr's technology supports Cisco's ACI (Application Centric Infrastructure). Cisco's ACI is a data center networking architecture designed to deliver business and other applications to end users in a cost-effective way. Before going ahead with CliQr's acquisition, Cisco announced in early 2016 that both companies will market their offerings together to corporate clients.
CliQr's CloudCenter technology works with various cloud providers' offerings like Amazon.com's (AMZN) AWS (Amazon Web Services), Microsoft's (MSFT) Azure, Google's (GOOG) (GOOGL) Compute Platform, and IBM's (IBM) SoftLayer and Rackspace. CliQr also works with OpenStack, CloudStack, and VMware's (VMW) vCloud private clouds.
Investors looking to gain exposure to Cisco Systems can consider investing in the SPDR S&P 500 ETF (SPY), which has an exposure of ~29% to application software and invests ~0.8% of its total holdings in Cisco.
Continue to the next part for a closer look at Cisco's strategy in acquiring CliQr.