Specialty Chemicals in Automotive: Not Just about the Color of Your Car
Specialty chemical products play important roles in enhancing the performance of cars. Motor oil cools car engines and keeps moving parts working smoothly.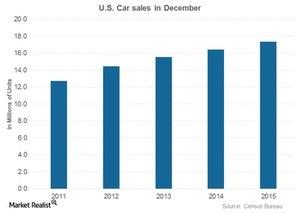 Introduction to automotive specialty chemical products
Specialty chemical (VAW) products play an important role in enhancing the look and feel of your motor vehicle. Motor oil, for example, draws heat away from the combustion chamber of an engine and enables its moving parts to work smoothly. Rubber blacks, on the other hand, are used as a performance additive in tires, while several structural adhesives and high-performance composites are necessary in the design of your car.
Article continues below advertisement
Article continues below advertisement
Of course, as we all know, coatings enhance the value of your car by not only lighting up its dull appearance but also by adding to its life by preventing its degradation from rusting. Not surprisingly, the automotive industry is the second-largest end market for coatings, after the housing sector. Therefore, right from the engine to the surface, specialty chemicals and materials play critical roles in the automotive industry (XLY).
Drivers
The upward surge of US auto sales every year has been assisted by the improving US economy, abating unemployment, softer crude prices, and an aging fleet of cars. The average age of passenger cars in the US has risen from 8.4 years in 1995 to 11.4 years in 2014. These trends are likely to benefit specialty automotive chemical companies such as Cabot Corporation (CBT), Axalta Coating Systems (AXTA), and Cytec Industries (CYT), which was recently acquired by Solvay SA.
Adhesives and sealants
Meanwhile, the demand for automotive adhesive and sealant market is being driven by the increasing focus on lightweight vehicles and the need to comply with rising fuel economy standards. Adhesives and sealants are used as substitutes to mechanical fasteners, gaskets, and welded joints in automobiles, and motor vehicles are seeing an increasing use of plastic, which cannot be welded, thereby contributing a fair share to the adhesive demand pie. The average volume of adhesives and sealants per car are highest in North America and Europe. However, due to the sheer volume of vehicles in Asia-Pacific, this is still the fastest-growing market.
Now let's take a look at other specific drivers of coatings in the automotive industry.