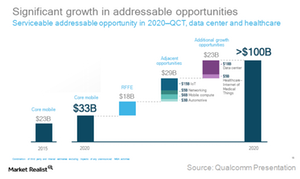 Qualcomm Is Targeting a $100 Billion Market by 2020
Qualcomm expands its SAM
So far, we've seen that Qualcomm (QCOM) is growing aggressively in the smartphone, IoT (Internet of Things), automotive, and data center markets. It's doing this through new product launches, licensing, and strategic partnerships. Let's see what the company aims to achieve from these efforts.
At the 2016 Analyst Day conference on February 11, 2016, Qualcomm stated that its total SAM (serviceable addressable market) is expected to grow from $23 billion in 2015 to about $100 billion in 2020.
Article continues below advertisement
Article continues below advertisement
Smartphone market
The market for Qualcomm's core business of 3G/4G (third-generation, fourth-generation) technologies for smartphones is expected to reach $33 billion by 2020. Currently, its $23 billion, growing at a CAGR (compound annual growth rate) of 8.7%. To boost growth, the company is increasing its revenue streams in adjacent markets.
Adjacent markets
Adjacent markets are areas where the company can reuse its mobile SoC (system on chip) technology by altering the designs according to industry needs.
The company expects the RFFE (radio frequency front-end) market to reach $18 billion by 2020. An increasing number of RF (radio frequency) content is used in smartphones, automotive, and embedded devices. Qualcomm has partnered with Japan's (EWJ) TDK Corporation to build a comprehensive RFFE portfolio.
Article continues below advertisement
With the emergence of the connected world, the use of SoCs is expanding. Qualcomm expects the total adjacent market, including IoT, networking, mobile compute, and automotive, to reach $29 billion by 2020. Lured by the growth opportunity in this space, Intel (INTC) is expanding in the IoT space, while NXP Semiconductors (NXPI) is growing in the automotive space.
Data center market
Qualcomm is now making efforts to tap into the data center market, which is dominated by Intel (INTC). Qualcomm expects the data center and healthcare markets to reach $23 billion by 2020. It expects to grow in the data center business through partnerships with server companies such as Red Hat (RHT).
All these efforts would place Qualcomm in an ideal position to launch 5G (fifth-generation), a unifying connectivity fabric built on these three pillars:
enhanced mobile broadband
support to mission critical services
backing of IoT
In the last part of our series, we'll see how Qualcomm stock has reacted to the challenges and the recent developments.