PVH Corp: Why Calvin Klein's Still Strong Despite Harsh Conditions
Calvin Klein in fiscal 3Q15 PVH Corp's (PVH) Calvin Klein business recorded strong performance despite several macroeconomic headwinds. On a constant-currency basis, revenue was up 7% compared to the third quarter of the previous year. Including the $58 million negative impact of foreign currency translation, the segment's revenue was down 0.3%. Revenue in the Calvin […]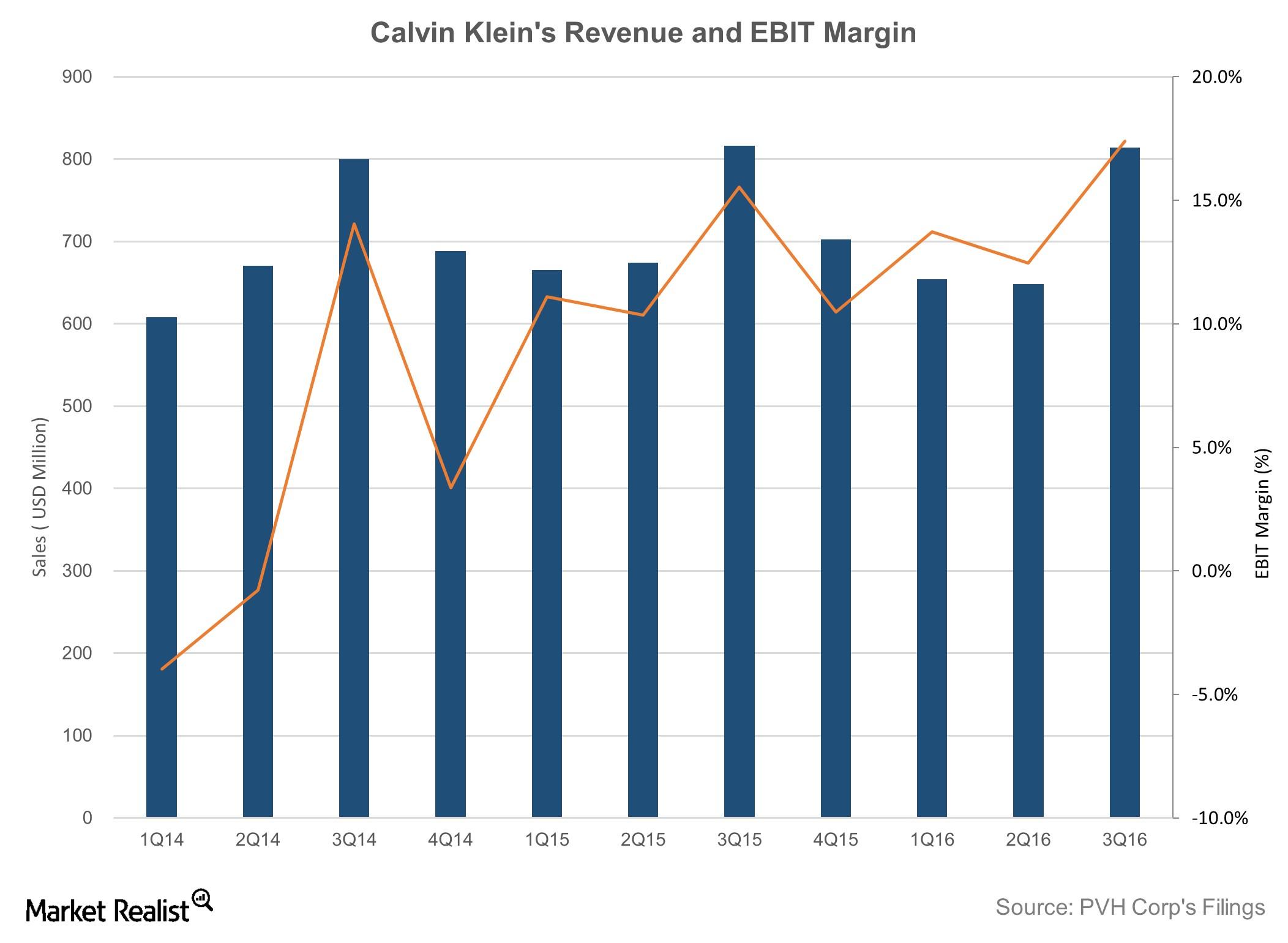 Calvin Klein in fiscal 3Q15
PVH Corp's (PVH) Calvin Klein business recorded strong performance despite several macroeconomic headwinds. On a constant-currency basis, revenue was up 7% compared to the third quarter of the previous year. Including the $58 million negative impact of foreign currency translation, the segment's revenue was down 0.3%.
Revenue in the Calvin Klein North America segment rose 4%—including a 3% negative foreign currency impact—as the wholesale business saw healthy growth. North American retail comparable store sales were down 3%, mainly due to the continued decline in traffic and consumer spending trends at US stores in international tourist locations and unseasonably warm weather.
Article continues below advertisement
Article continues below advertisement
Revenue in the Calvin Klein International segment fell 6% year-over-year, including a 13% negative foreign currency impact. On a constant-currency basis, revenue for this segment rose 7%, driven mainly by strong momentum in the European and Chinese businesses. International retail comparable store sales rose 2% during the quarter due to strong performance in Europe and China, which was partially offset by softness in Korea and Hong Kong.
Calvin Klein's improved operating income
The brand's operating income rose to $142 million during the quarter from $127 million a year ago due to gross margin improvements in Asia and Europe.
Coty (COTY) and G-III Apparel Group (GIII) are the largest licensees of the Calvin Klein brand. Together, they accounted for $2.8 billion of Calvin Klein's retail sales in fiscal 2014.
In fiscal 3Q16, Calvin Klein accounted for ~38% of PVH's total revenue and ~46% of its operating profit. ETF investors seeking exposure to PVH could consider the First Trust Consumer Discretionary AlphaDEX (FXD), which invests 1.3% of its portfolio in PVH.
Read the next part of this series to learn more about PVH's heritage brands and their performance in fiscal 3Q15.