Why Paint Companies Are Posting Their Best Gross Margins
Paint companies benefit significantly when titanium dioxide prices enter recessionary cycles.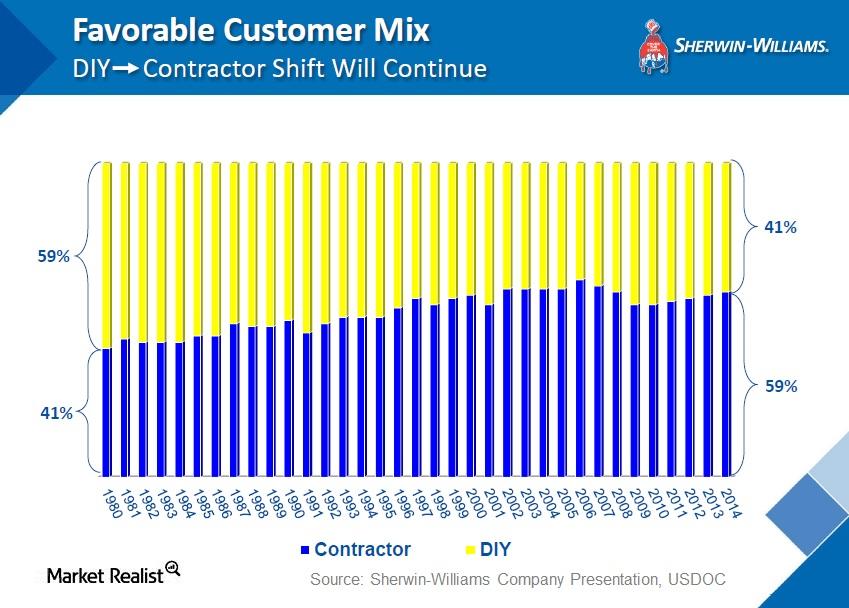 What kind of commodities make up paint costs?
As seen in the image below, several raw materials such as pigments, solvents, binders, and additives are used to produce paints. These materials are selected based on their functionality. For example, pigments impart the desired color and coverage (surface area covered by the coating), and some of them also improve anti-corrosive properties of paints.
Titanium dioxide, a white substance, is the most important pigment because it's exceptional for scattering light and because it maintains its whiteness when wet. Pigments constitute close to a third of paint costs. Paint companies, therefore, benefit significantly when titanium dioxide prices enter recessionary cycles.
Article continues below advertisement
Article continues below advertisement
Solvents are used to make paints thinner and constitute over 70% of the paint liquid itself. Binders, as the name suggests, are used to make the ingredients of paints hold to each other. Both solvents and binders consist of several petroleum and natural gas derivatives, including ketones, esters, alcohol, polyesters, epoxy resins. The prices of these materials vary in tandem with crude oil prices.
As you might imagine during commodity bust cycles, specialty chemical (XLB) companies that sell paints benefit significantly from low material prices, with many firms posting their best gross margins in several years. The Valspar Corporation (VAL) saw a gross margin of 35.3% in 2015. Sherwin-Williams' (SHW) was 49%, and PPG Industries' (PPG) was 44% during the same year (IYM).
Why is the demand for premium paints rising?
Labor costs constitute a large chunk of costs in painting contracts. Due to its versatile, easy-to-use nature, people often choose to paint their homes by themselves rather than hiring contractors. This is more common in the case of younger demographics, who are often healthier and poorer and, therefore, more likely to focus on cost savings.
By contrast, the aging population is more likely to hire contractors, as they tend to value comfort over money as they get older. As we'll discuss later in this series, there's been an increasing trend toward hiring contractors, and since contractors often buy premium paints, this shift has been further boosting the margins of paint companies.
Now let's do a breakdown of coatings across regional markets.