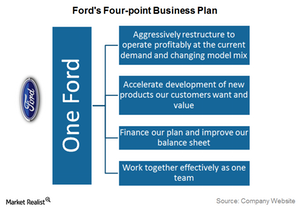 Why the One Ford Plan Is Still Critical for Ford
One Ford plan
The One Ford plan is an innovative business strategy adopted by Ford Motor Company (F) in 2007. One Ford expands on the company's four-point business plan for achieving global success.
In this article, we'll discuss how this plan has been critical for Ford's success and how it's still relevant for the company's strategy.
Article continues below advertisement
Significance of the One Ford plan
Since its beginning, the One Ford plan has benefited the company in many ways. The credit of initiating this plan goes to former CEO Alan Mulally. This plan helped Ford to remain financially sound during the 2009–2010 auto industry crisis. Note that this was the period when other US auto giants (XLY) such as General Motors (GM) and Chrysler filed for bankruptcy.
As you can see in the chart above, the company saved money by taking cost-cutting measures on many fronts and focusing on higher profitability. These measures included changes in product mix, development of customer-oriented products, and focus on balance sheet improvement.
Global platform consolidation
Vehicle platforms can be understood as the base for the vehicle development process. Based on one vehicle platform, many distinct vehicle models can be produced. Surprisingly, to increase its global product lineup targets, Ford has reduced its global platforms. Now, Ford is making more vehicle models based on a smaller number of platforms. This process is known as platform consolidation.
In 2007, the company was utilizing 27 platforms in the development process. Currently, this number has been reduced to just nine platforms. Notably, Ford is producing more vehicles now than it was in 2007, even with a smaller number of platforms.
The company plans to achieve increased vehicle volume by utilizing just eight global platforms. This shows a significant improvement in Ford's ability to develop new vehicles based on fewer platforms. Other important names on the auto manufacturers list that have plans to work toward platform consolidation are Toyota (TM) and Honda (HMC).
Global platform consolidation under the One Ford plan has helped the company to reduce its vehicle development–related costs. Therefore, the significance of the One Ford plan remains immense.