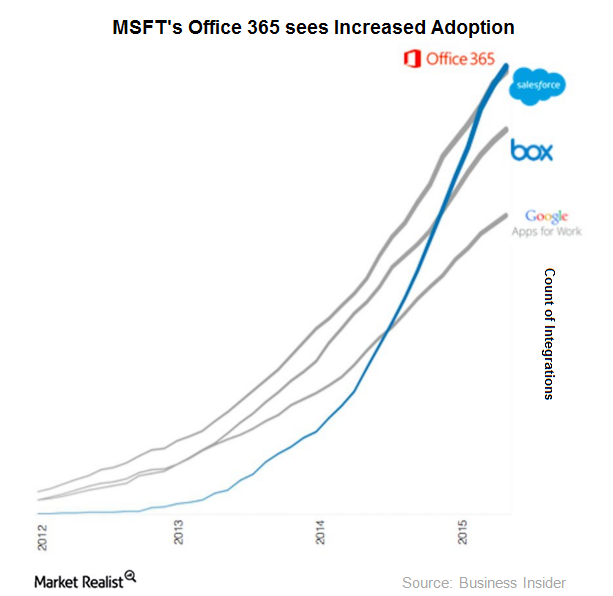 Office 365 Is Beating Its Peers in the Office Suite Arena
Microsoft Office 365 dominates the office suite space
Previously in the series, we discussed the new enhancements Microsoft (MSFT) announced for Office 365. In fiscal 2Q16, Microsoft stated that Office 365 continued to post double-digit growth.
Let's have a look at how Office 365 is faring in comparison with its peers, namely Google Apps (GOOG) (GOOGL), Salesforce,com (CRM), and Box (BOX).
According to Okta, Microsoft Office 365 usage has consistently been rising since 2013. Okta is a company that provides account management and password services that help companies to manage their cloud offerings and services.
Article continues below advertisement
By 2014, Office 365 managed to overtake Google Apps and Box. As the above chart shows, Office 365 continued its upward trajectory in 2015 and was able to close the gap between itself and Salesforce.com. Salesforce's key offering is CRM (customer relationship management). Salesforce's CRM is well integrated with other cloud applications, which makes it a popular choice for many organizations.
Why customers prefer Office 365 over its peers
According to a CIO article, many people are migrating toward Microsoft's Office 365, preferring it compared to Google Apps. Software familiarity, scalability, satisfactory customer support, and Microsoft's enterprise know-how are the chief reasons that companies prefer Office 365 over Google Apps.
According to Nick Espinosa, the chief information officer at information technology consultancy BSSSi2, "Microsoft is much better positioned than Google to be the dominant force in providing cloud for business, and it has overtaken Google because businesses have realized they should never have switched from Microsoft in the first place."
Microsoft's chief operating officer Kevin Turner claims that four out of five Fortune 500 companies use Office 365. However, in comparison to Office 365, Google Apps has a strong presence in the Asia-Pacific and China region. Microsoft is keen on building new data centers in the region (FXI), so the picture might change. Okta's figures show that Google Apps has found preference among small businesses.