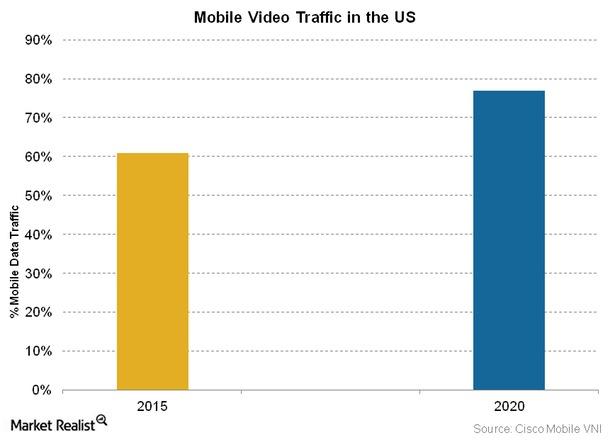 Why Netflix Is Streaming Low-Quality Video on AT&T and Verizon
Netflix is throttling video
Around two years ago, Netflix (NFLX) was involved in a dispute with Internet service providers (or ISPs) like Comcast (CMCSA) and AT&T (T) about slow Internet speeds ruining Netflix customers' experience. To overcome these issues, Netflix signed interconnection agreements with various ISPs.
But it now looks like Netflix is "doing the throttling," too. On March 24, the Wall Street Journal reported that Netflix has been streaming low-quality videos for subscribers on AT&T and Verizon Communications' (VZ) wireless networks. According to the report, Netflix stated that it's capping its video streaming at 600 Kbps (kilobits-per-second) to "protect consumers from exceeding mobile data caps."
Article continues below advertisement
Article continues below advertisement
The biggest part of mobile data traffic is video, which drives wireless carriers' data consumption. As per Cisco's (CSCO) VNI (Visual Networking Index), video made up ~61% of mobile data traffic in the United States at the end of 2015. This figure is anticipated to expand to ~77% at the end of 2020.
Wireless plans
The top four US wireless players are Verizon, AT&T, T-Mobile (TMUS), and Sprint (S). Verizon doesn't offer unlimited data plans for new users.
AT&T initiated an unlimited wireless combo for DIRECTV and U-verse customers on January 12, 2016. According to the company, the plan is exclusively for the consumer wireless segment. AT&T claims Internet speeds may be lower after consumption of wireless data reaches 22 gigabytes during an individual billing cycle. Plus, tethering isn't available on this plan.
AT&T makes up 1.4% of the SPDR S&P 500 ETF (SPY). If you're interested in exposure to the communications services sector, you should note that SPY has 2.8% exposure to the sector.
In the next part of this series, we'll look at how Netflix is looking to stream videos more efficiently with low data use.