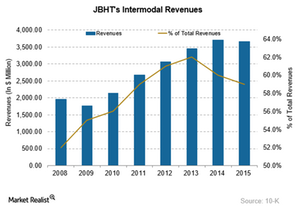 Why J.B. Hunt Transport Leads the Trucking Intermodal Space
By Samuel Prince

Mar. 8 2016, Updated 12:07 a.m. ET
What is intermodal?
Intermodal transportation involves the movement of freight in an intermodal container using multiple transportation modes such as rail, ship, and truck. It doesn't involve the handling of freight when the modes are changed. This helps in the faster movement of freight because it is not handled often.
J.B. Hunt Transport (JBHT) is the leading intermodal marketing company in North America, followed by Hub Group (HUBG) and XPO Logistics (XPO).
Article continues below advertisement
A majority of the company's total operating revenues comes from the intermodal segment. However, in the last two years, its share of the intermodal segment (or JBI) has gone down marginally. The revenues from this segment rose from $1.9 billion in 2008 to $3.6 billion in 2015, representing a CAGR of 9.4%.
Intermodal segment
J.B. Hunt Transport's (JBHT) intermodal segment began operations in 1989. JBHT leverages its fleet of 53-foot cubed containers and tractors to provide pickup and delivery truck services. JBI utilizes the intermodal services of rail carriers for the underlying line-haul movement of its equipment between rail ramps. The line haul is provided by major North American rail carriers such as BNSF Railway (BRK-B) and Norfolk Southern (NSC).
As a pioneer in the intermodal space, J.B. Hunt inked the first agreement in the trucking industry with a major Class I railroad. The origin and destination pickup and delivery services, or drayage, are handled by JBI-owned tractors for the majority of its intermodal loads.
JBI operates 78,957 pieces of company-owned trailing equipment to serve customers throughout the continental US, Canada, and Mexico. The fleet mainly includes 53-foot, high-cube containers, as well as leverages on the intermodal double-stack utilities.
Article continues below advertisement
This segment utilizes uniquely designed high-cube containers and chassis that can only be paired with each other. Plus, these chassis and containers are capable of separation, which allows smooth double stacking of the containers on rail cars. As of December 31, 2015, this segment's manpower totaled 5,838, representing 27% of its total employees.
Investing in ETFs
Trucking companies like J.B. Hunt Transport are included in the industrial sector of major ETFs. JBHT is included in the stock holdings of the iShares Transportation Average ETF (IYT). IYT invests 6.76% in the company and the ETF's total exposure to the trucking industry is 11.5%.
In the next part, we will take a look at the dedicated contract services of JBHT.