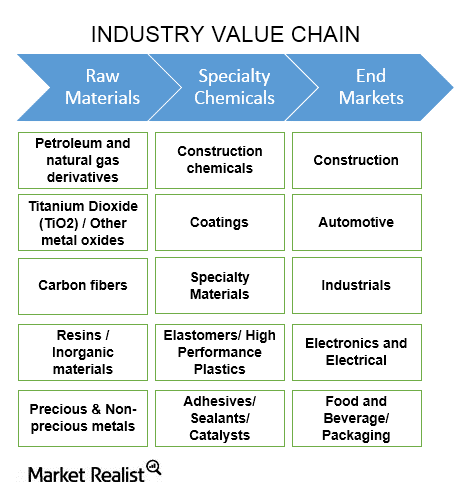 Introducing the Specialty Chemicals Industry: What You May Not Yet Know
By Shannon Black

Mar. 2 2016, Published 4:07 p.m. ET
Introduction
While ubiquitous, products in the specialty chemicals industry may not always present the most intuitive choices. Think about the last can of beer you had while watching a baseball game in the stands. No, you're right—beer is not a specialty chemical (or maybe it just is for some). I'm referring to the can, and in essence, the beverage can coating industry. Investors here are generally not very concerned about which beverage is taking pole position—as long as the cans are selling.
Article continues below advertisement
If beverage cans are not the end market you want exposure to, however, you might consider the automotive industry. As the biggest newsmaker lately, electric cars are heavily reliant on lithium because this is the raw material needed for their batteries. In this sense, an indirect exposure to the electric car market through lithium manufacturers could be a great way to avoid competition among car makers while still profiting from the trend of "going electric."
Hence, specialty chemicals
The specialty chemicals industry, therefore, caters to diverse sectors through innovative products that are essentially tailored to the specific requirements of these end markets. These products essentially act as intermediaries to other consumer industries.
The table below begins to break down products like paints and plastics, construction chemicals, coatings, electronic chemicals, and mining chemicals.
Article continues below advertisement
How are specialty chemicals different from commodity chemicals?
Commodity chemical products, by comparison, are sold based on composition rather than on function. With commodity chemicals, there's no difference in the utility of the chemical sold by one producer and the other, and as you might imagine, competition here is primarily based on price.  This is quite unlike specialty chemicals, the competitive forces for which we'll discuss in Part 16 of this series.
Companies in the specialty chemicals industry
The industry is top-heavy, with a few large companies followed by several smaller niche players. The Valspar Corporation (VAL), Sherwin-Williams Company (SHW), and PPG Industries (PPG) are among the leading players in the coatings industry. Other specialty chemical players include Albemarle Corporation (ALB), W.R. Grace & Company (GRA), and Ferro Corporation. The Materials Select Sector SPDR (XLB), iShares Dow Jones US Basic Mater (IYM), Vanguard Materials ETF (VAW) are among the well-known ETFs that have exposure to specialty chemical companies.
In this series, we'll take a comprehensive tour of the specialty chemicals space—from construction and household to automotive and industrial—while examining particular companies in each category with regard to margins, returns, business models, and the challenges these companies face in 2016.
Let's begin with a look at specialty chemicals and the housing market.