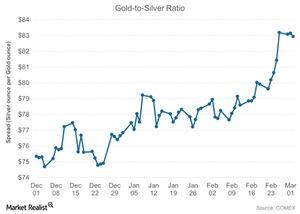 Where Is the Gold-Silver Ratio Headed?
Gold outperforms silver
The rise in the haven bids in 2016 has caused a jump in the price of gold by close to 17%. However, silver has increased only 8.3%—almost half the rise in gold.
When conducting a comparative study of gold and silver, it is important to consider the gold-silver ratio, or the gold-silver spread. The spread was trading at 82.9 as of Wednesday, March 2, 2016.
This ratio has been increasing as gold gained comparatively higher bids than silver during the past month. Gold and silver have increased by 8.8% and 1.5%, respectively, on a 30-day trailing basis.
The gains in these precious metals also helped the gains in funds like the iShares Silver Trust ETF (SLV) and the VanEck Vectors Gold Miners ETF (GDX). These two funds have seen increases of 2.2% and 24.1%, respectively, on a 30-day trailing basis.
Article continues below advertisement
Technical indicators
The recent price of the gold-silver ratio is trading at a considerable 8% premium from its 100-day moving average price of 76.7. It is also at a substantial premium over its 20-day moving average price. It may be expected that the ratio can turn lower, getting closer to the 100-day moving average mark. The RSI (relative strength indicator) for the ratio is 74.7. An RSI reading above 70 indicates a possible overvaluation in the measure, and an RSI reading below 30 indicates undervaluation.
This ratio had been trading between 77–79 during the first trading month of 2016, and it has gained a whopping 7.8% since the start of the year.
The changes in gold and silver are the primary influences on the ratio. The ratio is a measure of the number of ounces of silver it takes to buy a single ounce of gold. The changes in gold and silver also have a significant impact on mining stocks like First Majestic Silver (AG), Pan American Silver (PAAS), and Sibanye Gold (SBGL).