Expert Q&A: What to Know Before Investing in Generic Pharma? (Part 2)
(continued from Part 1) 4. What is the nature of the cash flows for generics companies? Stable, driven by a constant demand for prescription drugs? Or lumpy, driven by growth from drugs coming off patent? The larger companies in this sector tend to have stable, steadier cash flows due to established lineups of approved products. […]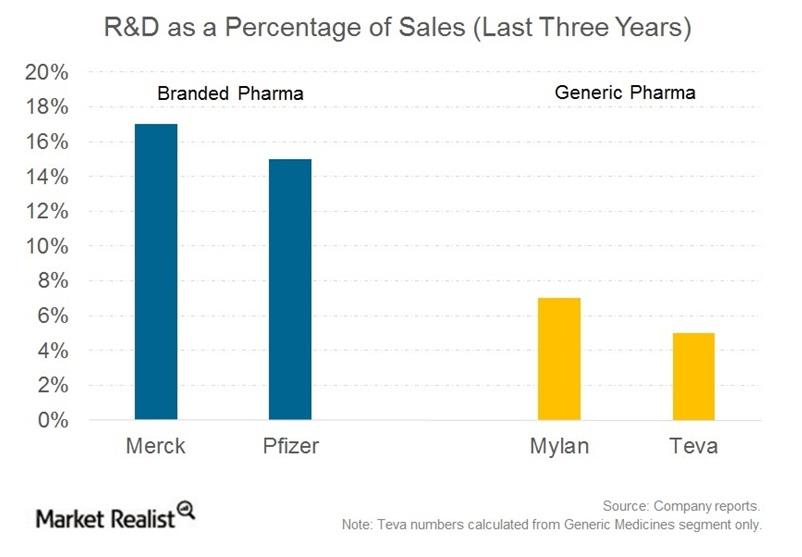 4. What is the nature of the cash flows for generics companies? Stable, driven by a constant demand for prescription drugs? Or lumpy, driven by growth from drugs coming off patent?
The larger companies in this sector tend to have stable, steadier cash flows due to established lineups of approved products. Smaller companies that are more reliant on drugs coming off patent, or have a large number of products pending approval, have less consistent cash flows, or "lumpy" cash flow.
5. Where does cash flow generally get redirected? Towards Research & Development (R&D)? Shareholder distributions? Buybacks? Acquisitions?
Article continues below advertisement
Article continues below advertisement
Unlike brand name pharmaceutical and biotech companies, generics manufacturers usually don't have significant R&D expenses, as a percentage of revenue. That is because they don't need to prove a drug's effectiveness, but rather that a drug is identical to its brand name counterpart. [3. U.S. Food and Drug Administration.] With lower R&D expenses, generics companies have recently begun to redirect cash flows toward acquisitions.
Article continues below advertisement
The above chart shows research and development costs as a percentage of total sales for big pharma companies Merck (MRK) and Pfizer (PFE) as compared to generic pharma (GNRX) companies Teva (TEVA) and Mylan (MYL).
6. Are there any major lawsuits or legislative actions that could affect the space?
The Hatch-Waxman Act is one of the most important pieces of legislation shaping the generic pharmaceutical industry today. It put in place patent expirations and limits on the exclusivity periods of brand name drugs. While it limited these periods, it did not eliminate the ability of brand name companies to challenge patent infringement and intellectual property rights. Brand name manufacturers may seek to preserve or extend a patent. Generic drug manufacturers are keenly aware of these expirations and are able to plan production accordingly. Investors in this space should always monitor relevant litigation, especially given the large investments brand name companies make in new drug development and regulatory approval.
More recently the pricing practices of both brand name and generic pharmaceuticals have come under intense scrutiny. The rhetoric has been amplified by the fact that it is an election year with a wide range of proposals from price caps to decreasing patent exclusivity periods.
7. The first biosimilar was only approved last year in the U.S. and they still face headwinds. With so little traction here, what makes them attractive to investors?
The potential for larger margins is a primary reason why biosimilars are attractive to investors. Molecular compound generics are usually priced at a 50%-80% discount to their reference or brand name drug, however, biosimilars are expected to offer discounts in the range of 20%-30%.[4. Indxx] Additionally, biosimilars are expected to expand into new markets, such as the U.S.