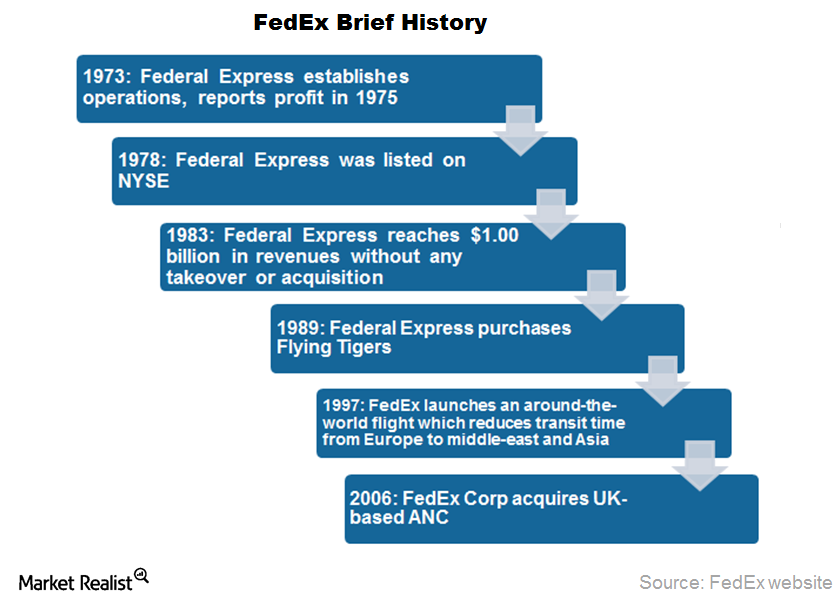 FedEx: A Concept that Blossomed into an Industry
A brief history
FedEx (FDX) was the brainchild of Frederick W. Smith in 1965. An economics student at Yale University, Smith wrote a term paper in which he came up with the idea for an overnight delivery service. He figured that for many businesses, speed was more important than cost. He realized that the necessities of an air cargo service were different than those of an air passenger service. Frederick firmly believed that air cargo needed to be a spin-off, instead of combining as an add-on to passenger service. His logic was that connecting to smaller cities was important. However, there were no takers for his concept during those days.
Article continues below advertisement
Article continues below advertisement
Frederick Smith purchased a controlling interest in Arkansas Aviation Sales in August 1971. He discovered the difficulties associated with the delivery of packages and other air cargo within one or two days. Smith hadn't forgotten the term paper and started endeavors in that direction. This was the beginning of Federal Express.
It was Smith's patriotic fervor that led the company to the name "Federal." He believed the patriotic meaning associated with the word "Federal" reflected an interest in the pan-US economic activity. Federal Express (FDX) began operations on April 17, 1973. On that night, the company's 14 small aircraft delivered 186 packages to 25 US cities. It was July 1975 when FDX first saw its first profits.
The company strongly lobbied for the deregulation of air freight, which finally happened in 1977. These deregulations helped FedEx to take off with larger planes. So, instead of flying a few small planes carrying air cargo, only one large jet was enough to do the task. This spurred FDX's rapid growth during those days. The company was an established player by the 1980s. In 1983, the company reported $1.0 billion in revenues for the first time. It achieved the distinction of the first US company to reach $1.0 billion in revenues within the first ten years of operations without a single merger or acquisition.
Today, FedEx is a dominant player in the fast-growing lightweight freight shipping industry. The company's formidable contender in the US is United Parcel Services (UPS). The other competitors with a low scale of operations compared with FDX are Air Transport Services Group (ATSG), Air T (AIRT), Old Dominion Freight Line (ODFL), XPO Logistics (XPO), and the US Postal Services (or USPS).
Investors interested in the logistics companies can consider investing in the SPDR S&P 500 ETF (SPY). Big shots like FDX and UPS make up 0.65% of SPY. In the next article, we will take a look at FedEx's growth as one of the largest lightweight freight delivery companies.