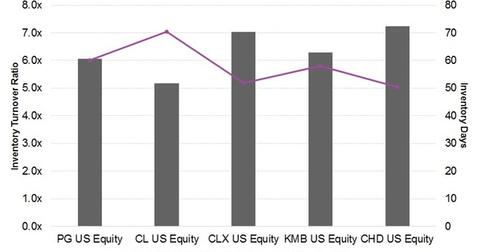 How CPG Companies' Inventory Levels Were Looking in 4Q15
By Penny Morgan

Updated
Distribution channels
CPG (consumer packaged goods) companies sell or market their products through mass retail (XRT) outlets like Wal-Mart Stores (WMT) and Target (TGT), e-commerce channels, wholesale distributors, mass merchandisers, warehouse clubs, and the dollar, military and other types of retail stores in the US. Outside the US, these companies sell products to the retail trade through subsidiaries, licensees, distributors, and joint venture arrangements with local partners.
Article continues below advertisement
Inventory levels for 4Q15
Inventory levels in 4Q15 increased for most CPG companies compared to 4Q14 inventory levels. The inventory turnover ratio for Procter & Gamble or P&G (PG) for 4Q15 increased by 6.1% to 6.1x compared to 5.7x in 4Q14. This was due to the reshaping of the product portfolio. However, sales growth declined in developing markets such as Asia and the Middle East due to lower volume.
The inventory turnover metric for Clorox (CLX) for 4Q15 increased by 0.5% to 7.1x compared to 7.0x in 4Q15. The increase was primarily due to higher sales and volume growth. (To learn more about Clorox's business, check out the series Clorox Is Cleaning Up in Consumer Staples Market Share.)
Colgate-Palmolive's (CL) 4Q15 inventory turnover ratio increased 1.4% to 5.2x compared to 5.1x in 4Q14. This was due to volume gains in South Africa and the Sub-Saharan Africa region. Organic sales for Africa and Eurasia increased by 6.5%. Also, in North America, sales grew by 1.2% in 4Q15 compared to 4Q14, off a 2% rise in unit volume. However, Kimberly-Clark's (KMB) and Church & Dwight's (CHD) inventory levels declined by 0.4% to 6.3x and 2.5% to 7.2x, respectively, in 4Q15.
Distribution hubs
In order to improve inventory levels, CPG companies need to improve the optimal level of orders or production frequency. P&G is focusing on re-siting manufacturing capacity closer to major consumer populations and new distribution hubs. Also, various distribution channels can help with inventory levels.
CLX has exposure in the iShares Russell 3000 ETF (IWV), with 0.1% of the total weight of the portfolio as of March 17, 2016.
Keep reading for our analysis of these companies margins in 4Q15.