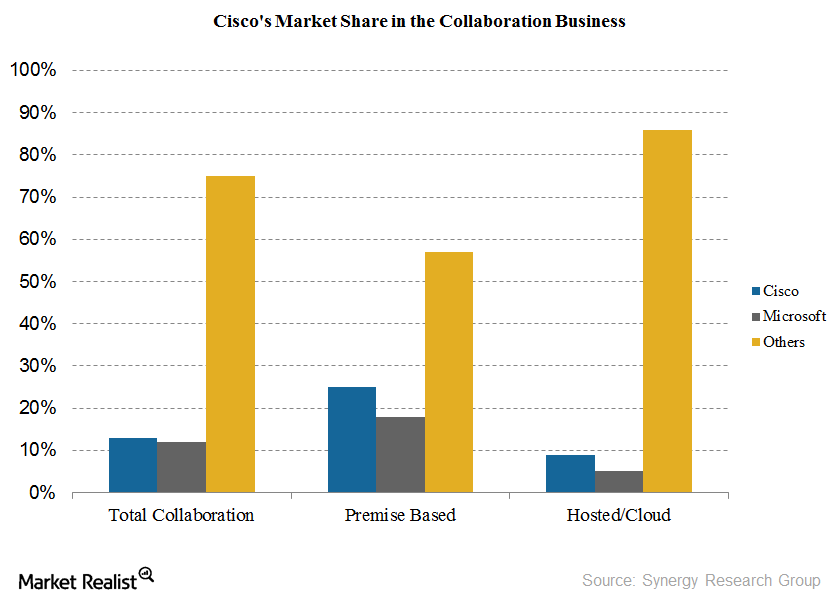 Why Did Cisco Recently Acquire Acano?
Cisco acquired Acano
Last month, Cisco completed the acquisition of European (VGK) video conferencing startup Acano for $700 million in cash. Acano is involved in the development of video infrastructure and collaboration software that allows end users to connect video systems from different vendors across both cloud and hybrid environments.
Before this acquisition, Cisco already had a formidable portfolio of companies. These included video conferencing company Tandberg, which Cisco acquired for $3.3 billion in 2010, and web meeting service WebEx Communications, which Cisco acquired for $3.2 billion in 2007.
Last year, Rowan Trollope, vice president and general manager of Cisco's work collaboration unit, said that many opportunities remain unfilled for work collaboration. Enterprises are switching from traditional conferencing and phone systems to face-to-face video conferencing.
Article continues below advertisement
Article continues below advertisement
Cisco is facing tough competition from technology giants such as Google's Hangouts service and Microsoft's Skype. Microsoft is planning to expand its video conferencing space in 2016 by introducing the Microsoft Surface Hub device for conferencing. This may give Cisco some competition in the conferencing hardware space.
Cisco dominates the collaboration segment
According to Synergy Research Group, at the end of 2Q15 Cisco (CSCO) had a 25% market share in premise-based solutions followed by Microsoft at 18%. Cisco and Microsoft (MSFT) lead in hosted or cloud collaboration, with a combined share of over 14%. They are followed by Google (GOOG), Verizon (VZ), and AT&T (T).
In the overall collaboration market, Cisco leads with a share of almost 12%. It's followed by Microsoft at 11% and Avaya at 5%.