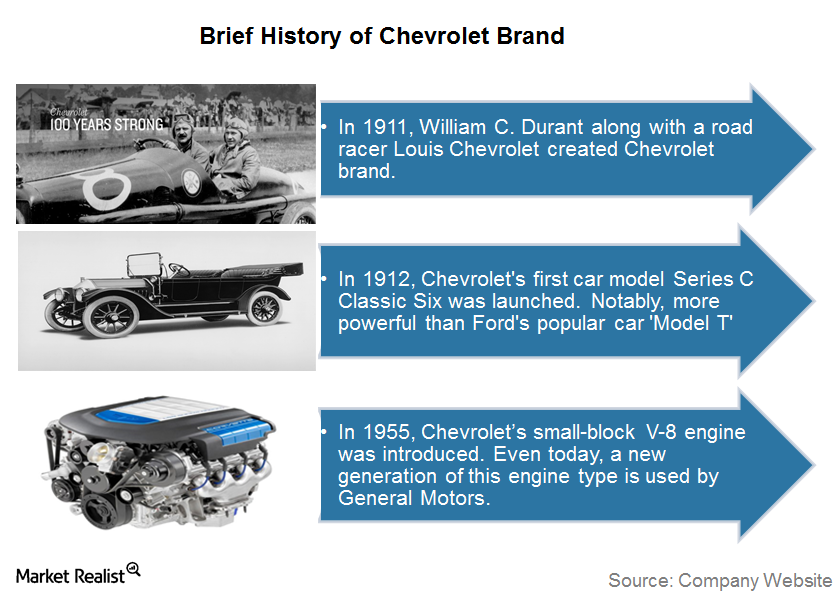 How Chevrolet Was Vital for General Motors' Success
Inseparable association
Previously, we looked at a brief history of General Motors (GM) and how the association of multiple automotive brands helped the company to emerge as the largest US automaker. Now let's take a look at GM's key brand, Chevrolet, and its contribution to the company's success.
Article continues below advertisement
Chevrolet brand history
In 1911, three years after founding General Motors, William C. Durant created the Chevrolet brand with road racer Louis Chevrolet. Back then, Louis Chevrolet was a popular road racer. For this reason, Durant chose his last name, as he believed that Chevrolet's reputation as a road racer would help him to sell more cars.
In 1919, under the leadership of Alfred Sloan, the Chevrolet brand emerged as the leading competitor to the most popular automaker, Ford Motor Company (F). Chevrolet's popularity was primarily based on the performance, durability, and value that its cars offered.
The first Chevrolet car model was the Series C Classic Six. It was equipped with a 40 horsepower engine more powerful than the 20 horsepower engine of Ford's Model T. This was just the beginning of the success story of the Chevrolet brand under General Motors.
Importance of Chevrolet brand
By the year 1929, Chevrolet became the best-selling auto brand in the United States. Since then, Chevrolet has become the largest contributor to General Motors' revenues.
In 1955, Chevrolet's small-block V-8 engine was introduced. It would be used by General Motors in many car and truck models in the coming five decades. Even today, a new generation of the same engine is used in various trucks and sport utility vehicles manufactured by the company. Some of GM's performance cars, including the Camaro SS and the Corvette, are also equipped with the same new generation of small-block V-8 engine. Therefore, the significance of the Chevrolet brand is immense for General Motors.
Major Japanese automakers (XLY) such as Toyota Motor (TM) and Honda Motor Company (HMC) were also founded much later than GM and Ford, in the years 1937 and 1946, respectively.
Continue to the next article to know about some of the other key brands that General Motors currently offers.