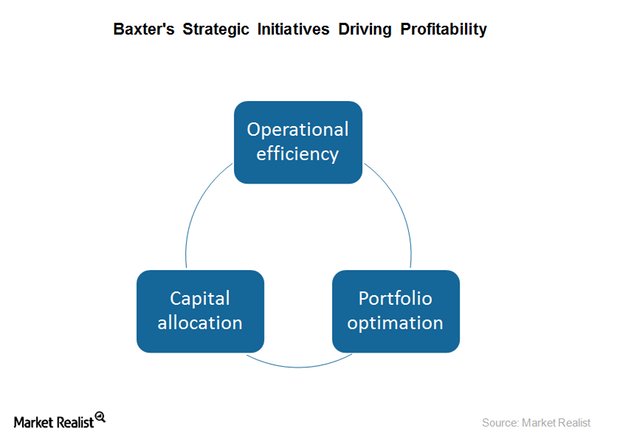 How Baxter's Biosciences Spin-off into Baxalta Improved Its Valuation
Retained stake in Baxalta and its application
On July 1, 2015, Baxter International (BAX) separated its Biosciences division into a new entity named Baxalta (BXLT). The company did this in an effort to divest its risky business segments and streamline its operations into a leaner organization. Baxter received $4 billion of dividends and retained 19.4% of its stake in Baxalta after the spin-off. The company plans to use these funds to repay debt obligations and pension liabilities.
Article continues below advertisement
Article continues below advertisement
Baxter expects to contribute ~$600 million toward pension liabilities in the next quarter and have an initiated debt repayment schedule in line with a plan that can lead to a strengthening of its balance sheet. Amid the challenging environment in the medical device industry, a number of other companies are increasingly making divestments of their not-so-profitable or disintegrated business segments in order to position the company as a leaner and more cost-effective business. Abbott Laboratories (ABT), for example, spun off its research-based pharmaceuticals business into AbbVie (ABBV) in October 2011.
Focus on more profitable and potential segments
Baxter has more funds at its disposal for investing in the potential growth segments such as home dialysis in its renal business and infusion pumps in its fluid system franchise. The company's Acute Care segment has also exhibited tremendous growth potential. Extended products and services in the segment are expected to generate growth and profitability.
More streamlined and flexible business structure
Operational efficiencies, such as infrastructure and process costs due to disintegrated business segments, also impact profitability substantially. With the Baxalta spin-off, Baxter undertook a number of initiatives to reduce inefficient operational structure, and its cost optimization measures have led to significant reductions in employee costs, selling, general, and administrative expenses, and other operational expenditures. These have helped accelerate the company's goal of profit margin expansion.
For investors seeking diversified exposure to the company, the Guggenheim S&P 500 Equal Weight Health Care ETF (RYH) has ~1.97% of its total holdings in Baxter International.
Now let's investigate Baxter's market positioning.