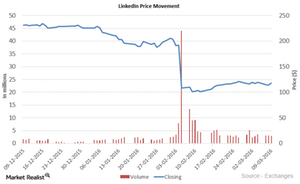 How the Acquisition of Connectifier Could Benefit LinkedIn
By Parker Thomas

Updated
Connectifier
During the recent quarter, LinkedIn (LNKD) announced the acquisition of Connectifier, a startup that helps recruiters find talent. This acquisition should bring in technical know-how that the company can leverage for further development of its flagship product, Talent Solutions.
Connectifier builds searching technologies that make use of artificial intelligence (or AI). It also performs index searches of ~400 million job candidates.
Article continues below advertisement
LinkedIn's Referral and Recruiter platforms will use the company's extensive database to find the right talent, but the search will be limited to its own territory. With this acquisition, LinkedIn can expand its searching ability via Connectifier's algorithm that crawls the entire Internet in search of job profiles. As a result, LinkedIn can improve its products.
Financials
Last year, Connectifier raised $6 million in funding for product development and R&D. The investors include K5 Ventures, Andrew Chen, and James Hong. According to TechCrunch, Connectifier's sales rose by 487% year-over-year from 1Q14 to 1Q15.
The number of businesses that used its services in 1Q15 totaled 482, up from 107 a year ago. These customers include 40% of Fortune 100 companies, including eBay (EBAY), Facebook (FB), and Twitter (TWTR). LinkedIn constitutes 0.37% of the Vanguard Extended Market ETF (VXF).