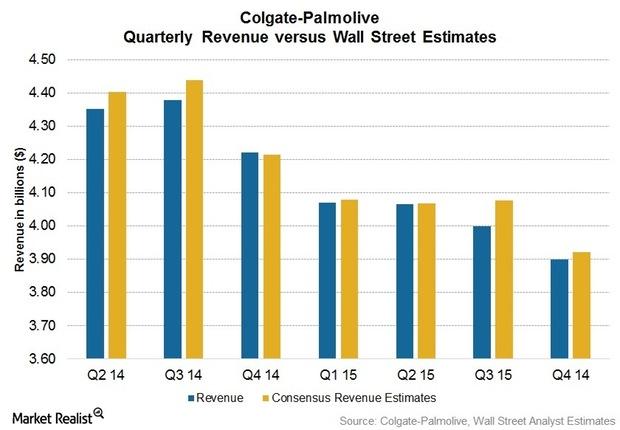 Why Does Colgate's Revenue Keep Falling?
Colgate's 4Q15 revenues
As discussed earlier, Colgate's (CL) revenue fell 7.5% to $3.9 billion in 4Q15. The reported revenue was negatively impacted by foreign exchange and divestitures. However, excluding divested businesses, unit volume rose 1.0%, and pricing also increased 4.0%.
In 4Q15, Colgate missed the consensus Wall Street analyst estimates on revenue for the second consecutive time. Analysts had projected revenues of $3.9 billion, which was already a 6.9% fall from $4.2 billion in 4Q14.
Article continues below advertisement
Organic sales versus peers
For the full year 2015, revenue fell 7% to $16 billion due to the negative foreign currency impact of 11.5%. However, Colgate's organic sales increased 5%, benefitting from a pricing and unit volume increase in 4Q15. Organic sales growth was led by emerging markets where organic sales grew a robust 6.5% despite economic challenges in certain countries.
Similarly, Procter & Gamble's (PG) organic sales rose 2%, benefiting from a 3% increase in pricing, which more than offset a 2% reduction in organic shipment volume in 4Q15. Kimberly-Clark (KMB) also posted 4Q15 organic sales growth of 5% in its January 25 earnings release. Clorox (CLX) is yet to release its 4Q15 results.
Leading market share
Colgate's leading share of the global toothpaste market rose to 44.7% year-to-date, up 0.5 share points versus the corresponding period last year. The company's global leadership in manual toothbrushes also strengthened. Its global market share in that category reached 34.7%, up 1.0 share point versus the corresponding quarter last year.
Focus on innovation
Colgate-Palmolive's aim is to strengthen its brand portfolio through innovation across all geographies in all product categories. For example, the company is launching Colgate Total Deep Clean in Europe in the next quarter, which features high cleaning prophy-silica, the same ingredient dentists use for in-office cleaning. This is unique among the current variants in the Colgate Total portfolio and will help in increasing market share as well as its top line for the coming quarters.
CL makes up 0.3%[1. Updated on February 1, 2016] of the iShares Dow Jones U.S. ETF (IYY). In the upcoming parts of the series, we will focus on Colgate's geographical segments' revenue contributions and cost drivers for 4Q15.