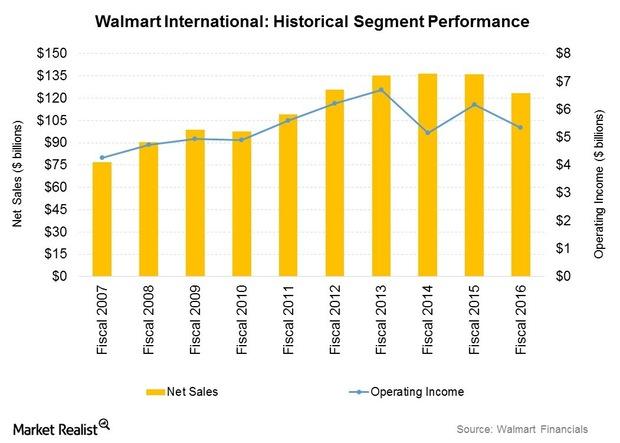 How Walmart Is Gaining—and Losing—Market Share in Key Overseas Markets
Walmart's international business takes record forex hit
Wal-Mart Stores' (WMT), or Walmart's, international segment posted sales of $123.4 billion in fiscal 2016, which was down 9.4% YoY (year-over-year). However, in constant currency terms, this segment's sales were up by 3.2%. Walmart took a record $17.1 billion hit due to adverse forex (foreign exchange) movements stemming from the rising US dollar. This was the largest-ever annual forex impact for the company in its history.
That being said, Walmart still managed to post positive comps in nine out of 11 of its international markets in fiscal 4Q16, with positive comps in seven markets for seven consecutive quarters (in constant currency terms, based on comments by David Cheesewright, CEO of Walmart International).
Article continues below advertisement
Article continues below advertisement
Mexico and Canada outperform, market share rises
North America remained Walmart's strongest performer, with both Mexico (EWW) and Canada (EWC) reporting positive comparable store sales growth. Net sales for Walmart rose 9.3% in constant currency terms in fiscal 4Q16. The company also reported growing sales at over double the pace of the overall market in Mexico. Walmart's Mexico sales grew 9.7%—nearly 2x the growth in the overall market, which grew 4.9% (according to ANTAD [Asociación Nacional de Tiendas de Autoservicio y Departamentales] and Cheesewright).
Walmart's Canada business also posted positive comps growth in 4Q16. Net sales were up 5.8% while same-store sales growth came in at 4.3% in constant currency terms. The retailer also reported market share gains in Canada, citing data from market research firm Nielsen for the twelve weeks ending January 23. Gains were seen in the food, health and wellness, and consumables categories.
UK woes continue
On the other hand, Walmart's UK arm, ASDA, saw its market share decline. According to Kantar Worldpanel, Walmart's market share in the 12-week period ending January 31, 2016, came in at 16.2%, versus 16.6% in the twelve-week period ending October 11, 2015. The UK market has seen persistent deflation for several quarters now, with the big four grocers including Tesco (TSCDY), ASDA, Sainsbury (JSAIY) (JSNSY), and Wm. Morrison (MRWSY) seeing declining shares of the overall market.
Walmart's share of the grocery market in China also appears to have declined. Let's explore this in the next part.