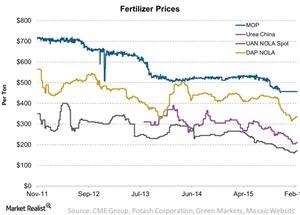 An Update on NPK Fertilizer Price Trends
By Adam Jones

Mar. 6 2016, Updated 10:06 a.m. ET
Fertilizer prices
So far we've looked at the prices of the most important crop commodity for agricultural fertilizers: corn. In this part, we'll look at where the prices of fertilizers stand.
Article continues below advertisement
Nitrogen price trend
Urea, the most widely traded nitrogen fertilizer, has also seen a decline in its prices over the past one year, with urea trading at $295 per ton at US Corn Belt and at $210 per ton in China. Both prices were down from $385 per ton and $320 per ton a year ago in 2015. UAN (urea ammonium nitrate) was also trading down at $170 per ton down from $265 per ton year-over-year. CF Industries (CF) expects urea prices to be lower in 2016—between the price range of $225–$270 per ton in the US Gulf region.
Phosphate and potash
DAP (diammonium phosphate) prices have also fallen over the one year period to $335 per ton from $449 per ton a year ago in 2015. Recently, prices of DAP have bounced back from the low of $315 in January, and recently, Mosaic's (MOS) guided average DAP prices for 1Q16 is in the range of $350–$370 per ton, according to its 4Q15 earnings release. (To learn more, read Mosaic's 4Q15 Earnings: Nice Surprise, but What's Next?) But notably, as of February 26, MOP (muriate of potash) was trading at $456 per ton, which is down from $527 per ton one year ago.
You can gain exposure to agricultural fertilizer companies without investing directly in a company's stock by investing in the iShares US Basic Materials ETF (IYM). Mosaic (MOS), CF Industries (CF), Monsanto (MON), and Dow Chemicals (DOW) make up about 23.6% of IYM.
So fertilizer prices have fallen significantly over the years. But more recently, the prices are showing a trend reversal, particularly for urea, UAN, and phosphate fertilizer. That means it's time look more closely at how this trend reversal in fertilizer will likely impact affordability.