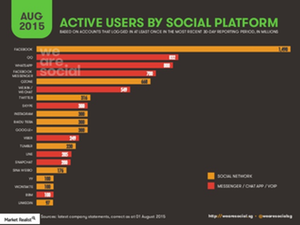 Where Does Twitter Stand in Comparison to Peers?
By Parker Thomas

Updated
Revenue growth declines
Until last year, Twitter managed to increase its revenue per user despite its user growth declining. During 4Q14, Twitter's revenues grew by 97% YoY (year-over-year) compared to 48% YoY during 4Q15. The company's revenue growth has seen a continuous decline along with the declining user growth. The reason for the declining user growth could be Twitter's efforts to increase revenues per user.
The majority of Twitter's revenues come from advertisements. As a result of its small user base, the company may target a high number of ads per user, which could become annoying to a user.
Article continues below advertisement
Other social media networks
In 2014, Instagram's user growth surpassed Twitter's and then it continued to add more users during 2015 compared to Twitter's stagnant growth. At the same time, SnapChat's monthly active users (or MAUs) came in at 200 million as per the recent estimates, whereas daily active users (or DAUs) stood at 100 million. Moreover, active users for Google+ (GOOG) and Baidu (BIDU) stood at 300 million in August 2015.
Twitter (TWTR) and LinkedIn (LNKD) have concerned investors due to sluggish user growth and its impact on revenues. Over the last year, both the companies have seen a decline in shares of 62.4% YoY and 56.1% YoY, respectively. In contrast, Facebook's (FB) shares have grown by 34.4% YoY. Wall Street expects Facebook to generate revenues of $25.5 billion at the end of this year, which is more than eight times what Twitter is expected to generate.
In the next articles, we will discuss Twitter's newly added feature to users' timeline, its growth potential in 2016, and finally analysts' recommendation for Twitter. Twitter constitutes 2.4% of the PowerShares NASDAQ Internet Portfolio (PNQI).