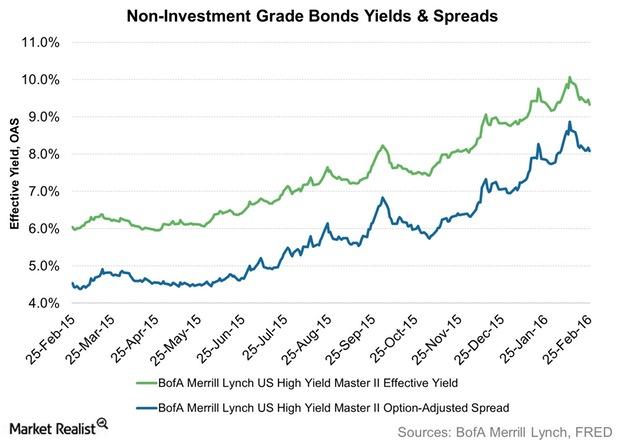 A Recap of High-Yield Bonds Year-to-Date in 2016
By David Ashworth

Feb. 29 2016, Updated 2:03 p.m. ET
High-yield bonds
High-yield bonds, also known as junk bonds, are types of debt instruments issued by companies. What make them high yield, or junk, and different from other types of bonds, are the ratings issued on them.
Rating majors Standard & Poor's, Moody's, and Fitch issue ratings for debt instruments. Bonds with ratings of "BB" and below by Standard & Poor's and "Ba" and below by Moody's are considered to be high yield.
Article continues below advertisement
Issuances in 2016
High yield debt issuers have been wary of volatile market conditions. According to data from S&P Capital IQ Leveraged Commentary and Data, high-yield bonds worth $11.9 billion have been issued as of the week ended February 19, 2016. This is 73% lower than the issuance volume in the same period in 2015.
Charter Communications (CHTR), subsidiaries of The Manitowoc Company (MTW), Acadia Healthcare Company, (ACHC), and Medical Properties Trust (MPW) have been among the major issuers of high yield bonds so far this year.
Yields on high yield bonds
A look at the graph above will show you the tear that yields on high yield bonds have been on in 2016. According to the BofA Merrill Lynch US High Yield Master II Effective Yield, high yield bond yields, which were at around the 6% level a year ago, stood at 9.3% on February 25, 2016. Year-to-date (or YTD) in 2016, yields have ranged from 8.8% to 10.1%. For reference, yields in 2015 were between 6.0% and 9.1%.
Article continues below advertisement
Spreads
Like yields, spreads have been on a tear as well. The BofA Merrill Lynch US High Yield Master II Option-Adjusted Spread, which ranged from 4.4% to 7.3% in 2015, has surged sharply and stayed in the range of 7.0%–8.9% in 2016.
A rise in spreads indicates worsening credit conditions. It shows the difference between the yields of high yield bonds and similar maturity Treasury yields. The high spreads show the riskiness of these instruments, given the high yields being demanded by investors.
Mutual funds
There are a host of mutual funds that provide access to high yield bonds. They have varying exposures to different grades of high yield bonds (WHIAX) and can be duration specific as well, such as the Prudential Short Duration High Yield Income Fund Class A (HYSAX).
In the next article, let's look at what you can do with high yield bond mutual funds in the remainder of 2016.