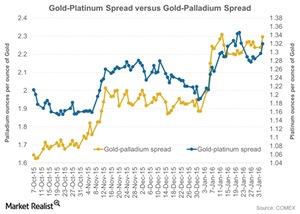 Platinum and Palladium Lose Their Luster in 2016
By Meera Shawn

Updated
Platinum and palladium tumble
While gold and silver have topped charts in 2016 so far (as of February 2), the typically best-performing metals, platinum and palladium, have begun to lag. Platinum and palladium have so far lost about 4% and 12.1%, respectively, since the start of the new year. These assets fell on Tuesday, February 2, 2016, by 1.7% and 2.2%, respectively, and closed at $855.7 and $491.3, respectively, per ounce.
Article continues below advertisement
This big price plunge of platinum and palladium has also caused the gold-platinum and gold-palladium spread to rise reasonably. The gold-platinum and gold-palladium spreads or ratios measure the number of platinum or palladium ounces it takes to buy a single ounce of gold. These ratios are currently trading around 1.32 and 2.3, respectively, and any rise in these ratios suggests that the relative strength of gold is gaining against the other metal.
Other investments
Many expert analysts expect platinum to average below $1,000 per ounce in 2016 as the global concerns persist. The constrained growth in the biggest market, China, has underpinned the demand for these assets, which widely used as industrial metals. The platinum-based jewelry demand may also stay flat for the coming year in China. Investments in platinum and palladium can also be tracked by way of ETF investments, as with the Platinum Physical Shares (PPLT) and the Palladium Physical Shares (PALL).
Mining-based stocks that faced the toughest times in 2015 have thus been on a rollercoaster ride in 2016, following these gains and losses in gold. But we should remember that any rise in gold price tends to be beneficial for these stocks, as higher metal prices mean expanded profit margins for those companies. Stocks like Sibanye Gold Corporation (SBGL), Barrick Gold Corporation (ABX), and Randgold Resources (GOLD) have made notable gains over the past trading month.
For related research, check out Market Realist's Precious Metal Mining page.