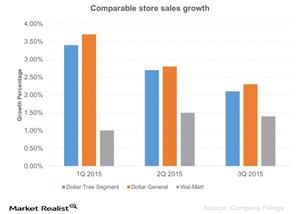 Dollar Tree: A Positive Mix of Organic and Inorganic Growth
Organic growth in sales
Dollar Tree (DLTR) (XRT) (XLY) is pretty consistent for extracting organic growth from its business, seeing growth in the mid-single digits over the years. The outlook for comparable store sales growth, the most important metric to look at for any retail store company, looks positive for Dollar Tree. In the first three quarters of fiscal 2015, its Dollar Tree segment saw comparable store sales growth of around 3.0%, which is encouraging for investors in the current economic situation.
Article continues below advertisement
Square footage growth
The above chart shows the performance of two dollar stores (DLTR) (DG), which have had comparatively higher organic growth than Walmart (WMT) over the last three quarters. The growth in the top line of Dollar Tree (DLTR) is not only happening organically but also through the growth in its number of stores. After the acquisition of Family Dollar, Dollar Tree surpassed its closest competitor, Dollar General (DG). This helped the company penetrate the multi-price market as well as increase its merchandise assortment tremendously. Historically, Dollar Tree's (DLTR) square footage grew at an acceleration rate in the high single digits. Although it slowed to mid-single digit growth in the integration phase, it should pick up after that as the market region is still far from its saturation point.
Sales outlook for 4Q15
The company estimates its net sales in 4Q15 to be in the range of $5.3–$5.4 billion, which brings the fiscal 2015 estimate to around $15.5–$15.6 billion. Comparable store sales are projected to grow by low single digits. The Wall Street consensus for 4Q15 net sales is $5.4 billion. In the next article, we'll have a look at the company's margins.