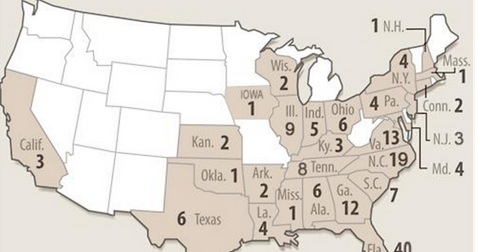 Where Is The Fresh Market Based and Where Is It Expanding?
By Sonya Bells

Updated
Store locations
As of October 25, 2015, The Fresh Market (TFM) operated 180 stores across 27 states. The company has presence mainly on the East Coast, with around 40 stores in Florida and 20 in North Carolina. The company has almost no presence in most of the western part of the United States.
Article continues below advertisement
Competition from Sprouts Farmers Market and Trader Joe's
Expansion by TFM into the western United States has not seen much success. Recently, the company had to close two of its five stores that it had opened in California. The vast presence of Sprouts Farmers Market (SFM) and Trader Joe's in the western states has been the main reason for this failure. TFM has not been able to compete with the already-established stores of these chains in terms of prices.
TFM continues to expand in the eastern United States
TFM plans to keep growing in the eastern states. In fiscal 2015, it opened 22 new stores, of which seven were in Florida, four in North Carolina, and three in Texas. The company recently announced signing 11 new leases for store locations, including four in Florida. The company believes that it can achieve better returns by expanding in markets within or closer to its existing markets.
Article continues below advertisement
SFM's expansion eastwards means more competition for TFM
Sprouts Farmers Market (SFM) has increased its store count to eight in Georgia, where TFM already has 14 stores. Many of the SFM stores are located less than a mile away from TFM stores and have seen great success. Based on its success in Georgia, Sprouts identified Florida, North Carolina, and South Carolina as its next expansion targets in the eastern states. This would mean a rise in competition for TFM.
While TFM was mainly competing with the high-end brands of Whole Foods Market (WFM) earlier, it now has to compete with Sprouts and even Kroger, which has recently achieved significant success in the organic food space.
ETF exposure and a look at what's next
The Fresh Market (TFM), Kroger (KR), Whole Foods Market (WFM), and Sprouts Farmers Market (SFM) are a part of the Fidelity MSCI Consumer Staples ETF (FSTA) and account for 2.6% of the index weight. In the next part of this series, we'll take a brief look at TFM's pricing, expansion, distribution, and marketing strategies.