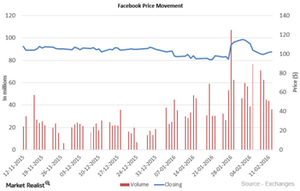 How Did Facebook Drive More Traffic to Instant Articles?
By Parker Thomas

Updated
Liberalized policies
Facebook (FB) is highly monetizing its growing user base of 1.6 billion as of 4Q15. It's doing this by liberalizing its policies for publishing Instant Articles. Facebook is tied to many publishers such as Business Insider, Vox Media, and LittleThings.com, which publish articles on the Facebook dedicated page.
In October 2015, Instant Article rolled out to Apple's (AAPL) iOS platform. It allows media partners to publish their content directly to Facebook instead of redirecting traffic to their websites with a posted link.
Article continues below advertisement
Earlier, Facebook provided their publishers with strict guidelines on the volume and type of ads they could post for each article. For instance, a specific size was allowed for the banner for every 500-word article. It could not include rich media such as animated or interactive ads commonly found in publishers' web portals.
Applied strategy
Publishers pointed out that they were finding it very difficult to generate revenues from the type of content they had to publish on Instant Article. As a result, Facebook changed the policy to include more banners for each article published and to sell Facebook-only ad campaigns to marketers. Publishers are also entitled to 100% of revenues generated from ads they sell and service themselves. Otherwise, publishers get 70% of revenues if they have Facebook sell ads on their behalf.
The news and entertainment site Mic is benefiting from publishing 100% of its content to Facebook. In fact, Mic is able to monetize the content at a similar rate to its own website. Similarly, Business Insider expects to generate more revenues from Instant Articles by selling half of its total ads to Facebook and the other half to advertisers. Vox Media is also adopting a strategy similar to Business Insider's.
The PowerShares NASDAQ Internet (PNQI) is a portfolio of 94 stocks. Its top four stocks are Amazon (AMZN), Alphabet (GOOG), Facebook (FB), and Netflix (NFLX), which constitute 9.1%, 8.7%, 8.3%, and 7.5% of the fund, respectively.