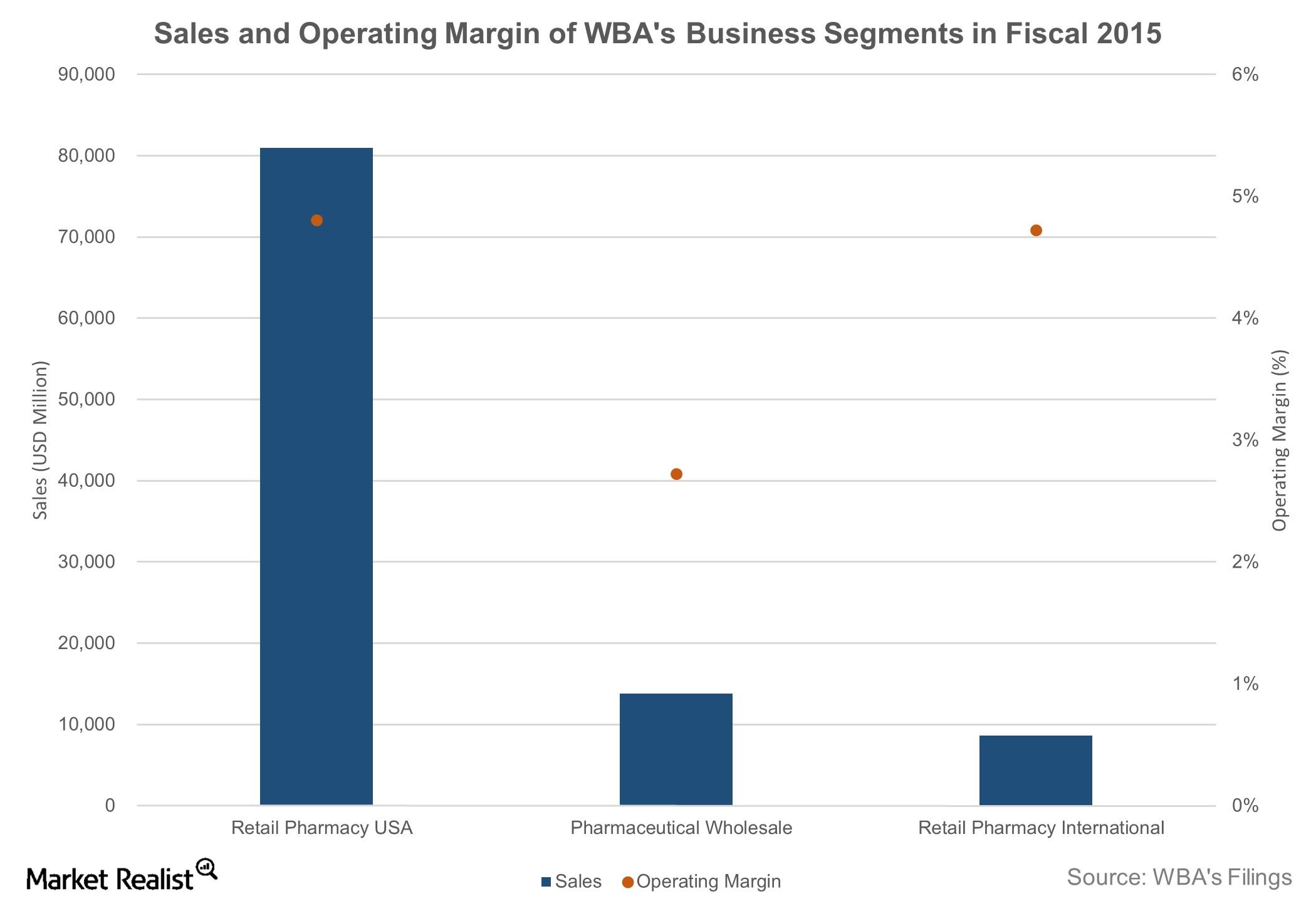 Walgreens Boots Alliance: Segments and Geographic Footprint
Business segments in detail
Prior to the acquisition of Boots Alliance, Walgreens' operations were reported within one segment. Following the completion of the second-step transaction on December 31, 2014, Walgreens Boots Alliance (WBA) reorganized its operations into three segments, namely:
Retail Pharmacy USA
Retail Pharmacy International
Pharmaceutical Wholesale
Retail Pharmacy USA is Walgreens Boots' largest business segment. In fiscal 2015, it accounted for 78.3% of the company's total sales and 83.2% of its operating income. Walgreens Boots' retail pharmacy operations in the United States face competition from drugstore retailers such as CVS Health (CVS) and mass merchandisers and retailers such as Walmart (WMT) and Costco Wholesale (Costco).
Pharmaceutical Wholesale, the second-largest segment, accounted for 13.4% of the company's sales and 8% of its operating income in fiscal 2015. The Retail Pharmacy International division, which accounted for 8.4% of the sales, contributed towards ~8.7% of the company's operating income.
Article continues below advertisement
WBA has presence in 25 countries
Walgreens Boots has operations in around 25 countries. The company's pharmacy-led retail business has operations in 11 countries, while its pharmaceutical wholesale and distribution network is present in 19 countries. However, the majority of the company's revenue comes from the US market.
The company's US operations, which originally belonged to Walgreens and are now categorized as Retail Pharmacy USA, accounted for 78.3% of Walgreens Boots Alliance's fiscal 2015 sales. The United Kingdom accounted for 9.1% of the sales, while the rest of Europe contributed to 11.2% of the company's top line.
ETF exposure