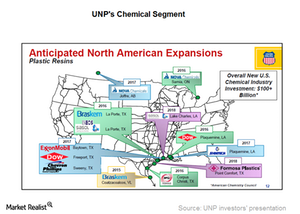 Union Pacific's Chemical Freight Revenues: An Anticipated Mixed Bag in 2016
Union Pacific's chemical freight
Previously in this series, we concluded that Union Pacific Corporation (UNP) is hopeful about better automotive freight prospects. In this part of the series, we'll review the prospects of the company's chemical business for the coming year.
Union Pacific's chemical shipments include petrochemicals, fertilizer, soda ash, and other. The company's 60% chemical business originates or culminates at chemical manufacturing zone along the US Gulf Coast. The company also serves as chemical producers in the Rocky Mountains and the West Coast.
Chemicals contributed about 16% to Union Pacific's revenues in 2014. On a year-over-year basis, the company's chemical revenues went down by 6% in 3Q15.
Article continues below advertisement
Union Pacific's chemical carloads in 4Q15
The company's chemical carloads were down by 4% in the fourth quarter of 2015 compared to same period one year previously. Petroleum products carloads, for example, were down by 18% during the same period, and crude oil carloads have been on a downward journey since December 2014.
Notably, in August 2015, the US Energy Information Administration predicted a near-term, less-rapid production decline in crude oil in major US shale regions including the Bakken, Niobrara, and Eagle Ford, where Union Pacific's crude shipments originate.
Union Pacific's expansion in the chemical industry
On the positive side, American Chemistry Council anticipates a $100 billion investment in new chemical industries over the next two or three years. We expect that in 2016, Union Pacific will have higher hauling opportunities since most of the plastic resins facilities will set up or expand along the company's routes.
Overall, we anticipate that in 2016, Union Pacific will most likely handle lower chemical shipments due to crude oil impact. The company's ability to score high prices will likely be impacted by low crude oil price. This, in turn, will likely impact the company's chemical freight revenues.
Union Pacific's peer group companies
Union Pacific's peer group companies like Kansas City Southern (KSU), CSX Corporation (CSX), and Norfolk Southern Corporation (NSC) are also expected to face similar revenue headwinds in 2016.
The SPDR S&P Transportation ETF (XTN) holds approximately 2.6% in UNP, about 2.5% in KSU, around 2.4% in CSX, and another ~2.1% in NSC. XTN's total holdings in Class I railroads is nearly 9.6%.
Now let's examine the revenue prospects of Union Pacific's steadily rising intermodal business.