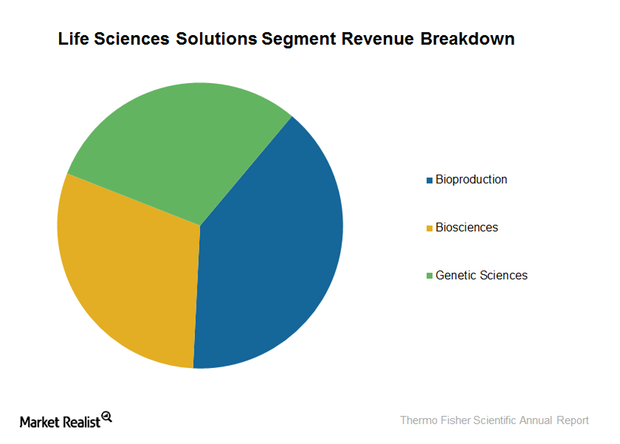 The Life Sciences Solutions Segment of Thermo Fisher Scientific
Overview
Thermo Fisher Scientific (TMO) is a leading provider of life sciences reagents. The company's Life Sciences Solutions segment earned revenues of ~$4.2 billion in 2014, representing organic growth of around 4%.
The acquisition of Life Technologies allowed Thermo Fisher to leverage its customer reach via its Life Technologies' eBusiness and Thermo Fisher's direct service models.
Article continues below advertisement
Life Sciences Solutions
The Life Sciences Solutions segment is segregated into three business divisions: Bioproduction, Biosciences, and Genetic Sciences. Biosciences is the largest segment, with revenues of around 45%. The Genetic Sciences segment generates revenue of around 41%.
Biosciences
According to Thermo Fisher's annual report, the Biosciences division includes "reagents, instruments and consumables that help the customers conduct biological and medical research, discover new drugs and vaccines, and diagnose disease."
Driven by the company's significant research and development investments, some of the products forming part of Biosciences are:
Cell biology applications: Lipofectamine 3000, a reagent with ten times higher transfection efficiency, which is defined as the efficiency to insert genetic material such as DNA in mammalian cells
Molecular biology applications: Superscript IV, a faster reverse transcription that is the synthesis of complementary DNA from an RNA template
Article continues below advertisement
Bioproduction
The company's Bioproduction division provides products and solutions to be applied to the biologics workflow, supporting the manufacturers of biological-based vaccines and therapeutics.
Advanced Scientifics, acquired by the company in 2015, has significantly boosted the performance of the Bioproduction division by providing single-use technology and process equipment. Single-use technology substantially reduces the environmental impact of the company's manufacturing facilities.
Genetic Sciences
The Genetic Sciences business provides reagents and instruments to analyze DNA across applications that include research, clinical, and applied markets. It earned revenues of $1.7 billion in 2014 and is focused on genomic applications.
The segment's product portfolio includes technologically advanced products such as Thermo Fisher Cloud and QuantStudio 3 and 5, providing integrated workflows designed to increase productivity, chip-based next generation sequencing (or NGS) platforms, and qPCR, which are genetic analysis techniques.
Agilent Technologies (A), Becton Dickinson (BDX), and Abbott Laboratories (ABT) are among the major competitors of Thermo Fisher Scientific. To gain exposure to Thermo Fisher Scientific without investing directly in the company, you can invest in the iShares Global Healthcare ETF (IXJ), which has an allocation of ~1.4% in the company.