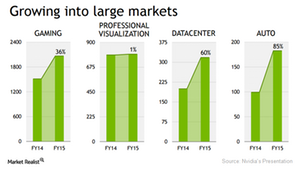 What Risks Does a Limited Customer Base Pose for Nvidia?
Nvidia's dependence on customers 
As we saw in the earlier part of the series, Nvidia (NVDA) has a limited customer base due to the amount of time and resources spent on product design wins.
As per the company's fiscal 2015 SEC filing, it earned 11% of its revenue from its largest customer. Let's see the possible risks arising from this limited customer base.
Article continues below advertisement
Limited customer base
A single customer accounts for a major chunk of Nvidia's revenue. Customers may decide to stop purchasing products from Nvidia, reduce their order volumes, or change their purchasing patterns, thus affecting the company's revenue.
In fiscal 2015, rival Qualcomm (QCOM) lost its key customer Samsung (SSNLF) when Samsung decided to manufacture chips in-house.
Nvidia's customers could also be facing lower demand. This was the case with Hewlett-Packard (HPQ), which saw softness in PC (personal computer) demand. In this case, customers may opt for more competitive products.
Heavy dependence on end-consumer demand
In the previous part of the series, we saw that Nvidia has to manage significant inventory to address short lead times and quick delivery schedules. Purchase orders from customers and shipment schedules are difficult to predict, as they're subject to manufacturing availability and end-consumer demand.
A major portion of Nvidia's revenue is generated from GPUs (graphic processing units) used in consumer products such as PC gaming and automotive. These products typically show strong revenue in the second half of the company's fiscal year. However, there is no guarantee that this trend will prevail.
The semiconductor industry has been witnessing continued softness in PC demand, which has adversely affected the sales of Intel (INTC) and Micron Technology (MU), both of which rely heavily on PCs. Even Nvidia earns most of its revenue by selling GPUs for PCs.
However, strong demand from gamers helped the company in 2015, and this trend is likely to continue in 2016. In fiscal 3Q16, the company's revenue from gaming rose 44% YoY (year-over-year) to $761 million.
Diversifying product portfolio
Learning from the experience of Intel and Micron, Nvidia is looking to diversify its revenue stream by targeting customers in the automotive market. In fiscal 3Q16, the company's revenue from automotive rose 52% YoY to $79 million.
We'll now look at the competitive risks faced by Nvidia. You can gain exposure to all the above stocks through the SPDR S&P 500 ETF (SPY). It has 0.09% exposure to NVDA, 0.89% to INTC, 0.41% to QCOM, and 0.12% to HPQ.