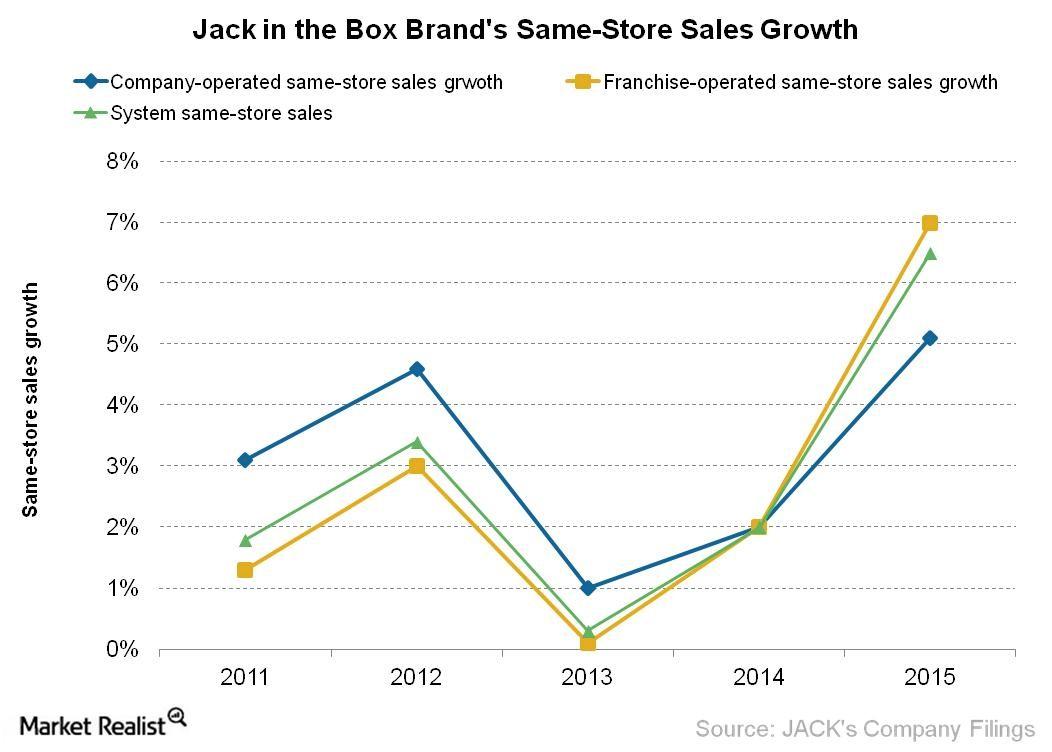 Jack in the Box: Same-Store Sales Growth Drives its Revenue
By Rajiv Nanjapla

Jan. 19 2016, Updated 10:07 a.m. ET
Revenue drivers
Same-store sales growth and unit growth are two of the most important revenue drivers in a restaurant business. Same-store sales growth measures the growth in revenue generated by existing stores over a period. Same-stores sales, represented in percentages, don't include the revenue from new stores opened during that period.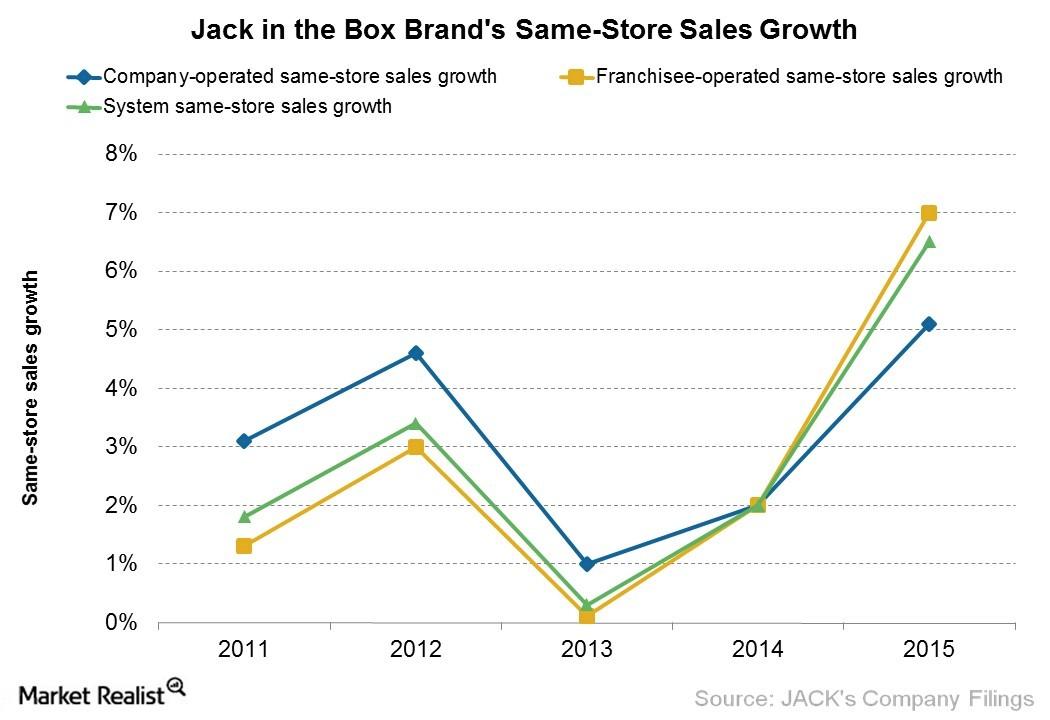 Article continues below advertisement
The Jack in the Box brand's same-store sales growth
Although the brand's overall revenue over the last five years has decreased, Jack in the Box's (JACK) same-store sales growth between 2011 and 2015 was positive. From 2011 to 2013, the same-store sales growth of company-owned restaurants outperformed the franchisee-owned restaurants' same-store sales growth. In 2014, both recorded equal same-store sales growth of 2%. In 2015, franchisee-owned restaurants, with 7% same-store sales growth, outperformed company-owned restaurants, which had same-store sales growth of 5.1%. That year, the system same-store sales growth was 6.5%. As franchises operate in established markets through seeding strategies and are operated by best-in-class owners, franchisee-operated restaurants recorded higher same-store sales growth than company-operated restaurants.
Same-store sales are driven by ticket size and transactions, or traffic. The average ticket size is calculated by dividing the total sales by the number of transactions. As the average ticket size goes up, the total average collected will rise. Ticket size is affected by price and product mix. In 2015, Jack in the Box's average ticket was $7.15, which, compared with $6.25 in 2011, is an increase of over 14.4%. In 2015 alone, the average ticket grew from $6.83 to $7.15, an increase of over 6.8%. The growth in average ticket size is primarily due to higher menu prices and favorable product mixes.
As for transactions, they have increased progressively over the last three years. 2015's transactions increased by 3.2% over 2014's transactions. This rise can be attributed to the introduction of new late-night menus and promotional offers.
Peer comparison: Same-store sales growth
McDonald's (MCD) same-store sales decreased by 0.3% between October 2014 and September 2015. During the same period, the same-store sales of Burger King, a subsidiary of Restaurant Brands International (QSR), increased by 4%. The Wendy's Company's (WEN) increased by 2.4%.
You can get exposure to Jack in the Box (JACK) stock by investing in the Direxion All Cap Insider Sentiment ETF (KNOW), which has invested 1.4% of its portfolio in Jack in the Box.