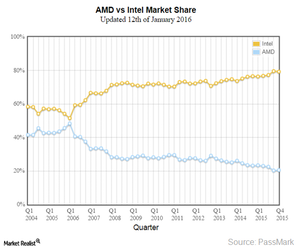 Intel and AMD's Duopoly in the PC Processor and Server Market
Intel versus AMD
AMD (AMD) and Intel (INTC) seem to have a duopoly in the PC processor and server market, with Intel accounting for more than an 80% share in the PC processor space and a 99% share in the server space. However, this market dominance was not the scenario in the past.
AMD was the first to build x86 64-bit architecture in 2003. It also was the first to introduce new technologies such as the x86 dual-core processor, a 1GHz clock speed, and the APU (application processing unit). It also moved ahead of Intel in 2006 with a gross margin of 58.5%.
However, the tables turned as Intel developed its own x86 64-bit architecture and used manufacturing innovations to gain market share.
Article continues below advertisement
Intel's strategy to retain market share 
Intel has been using its dominant position and greater financial resources to keep the competition from AMD in check. Whenever AMD starts gaining market share, Intel implements marketing and pricing strategies that lead to a lower average selling price, which affects AMD's margins.
A classic example of that is the purpose-built, low-cost processor market, which Intel left for AMD. Intel was more focused on high-end processors that deliver high margins, and it had not been interested in the low-cost processor market. Intel's Atom processors were well behind the performance of AMD's comparable offerings. This saw AMD gain more than 50% market share in 2013.
This turn of events concerned Intel, which introduced the Bay Trail-M and Bay Trail-D processors at competitive prices in 2014, gaining market share. Although Intel reported a 14% rise in low-cost processor revenue, AMD's revenue in this segment declined in 2014. Many OEMs (original equipment manufacturers) use AMD to get a better deal from Intel.
AMD goes fabless
Subdued by strong competition from Intel, AMD exited the silicon manufacturing business in 2009 by selling its fabrication facilities (or fabs) to GlobalFoundries. Leveraging its strength of research and development, the firm adopted a fabless model similar to Qualcomm's (QCOM) and Nvidia's (NVDA) approaches. In a fabless model, the company designs and markets semiconductors while the manufacturing is outsourced to third-party foundries. AMD outsources manufacturing to Samsung (SSNLF) and GlobalFoundries.
AMD is looking to reduce its exposure in the microprocessors for PCs and notebooks, where Intel rules the market. The PowerShares QQQ ETF (QQQ) has more than 8.0% exposure in the semiconductor market, with a 3.19% holding in INTC, 0.34% in NVDA, and 1.46% in QCOM.