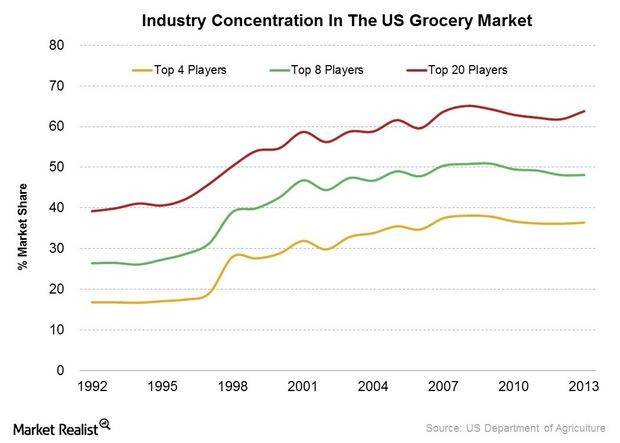 How Warehouse Clubs Have Transformed the Retail Sector
Industry structure of warehouse clubs
Warehouse clubs compete on the basis of price. They're a volume play. Members can purchase merchandise in bulk at highly competitive rates compared to those offered by other mainstream retailers. However, customers must pay an annual membership fee for the privilege. Membership can be multi-tiered depending on the benefits offered. Costco Wholesale (COST) is the largest membership warehouse club in the US in terms of sales.
Article continues below advertisement
Warehouse club growth
A National Bureau of Economic Research study[1. The Ongoing Evolution of US Retail: A Format Tug-of-War, Ali Hortaçsu and Chad Syverson, August 2015] has found that the evolution and growth of warehouse clubs (including both warehouse clubs like Costco and Sam's Club, as well as supercenters) have been the most significant influences on the retail sector over the last 15-20 years.
Sales for warehouse clubs rose 10.5x over the period 1992-2013 to $420 billion. The rise of warehouse club sales may also have resulted in cannibalization of sales in other retail formats. Warehouse clubs also added 660,000 jobs between 2000 and 2015.
Rising industry concentration
The trend towards larger store formats is visible in the rise in grocery industry concentration. The top four players accounted for 36% of industry sales in 2013, up from 16.8% in 1992[2. Source: US Department of Agriculture]. The top four players include Walmart (WMT), Kroger (KR), Safeway (now part of Albertsons), and Publix Supermarkets (PUSH), in that order. The USDA partially attributed the increased concentration to the growth of Walmart's supercenters over the years.
Costco's expansion plans
Costco is looking to add new warehouses both in the US and abroad. It's looking at 22 new warehouse locations in the US this fiscal year, following the addition of 12 new stores in the US last year.
Costco and Walmart together constitute 8.2% of the holdings in the Vanguard Consumer Staples ETF (VDC).