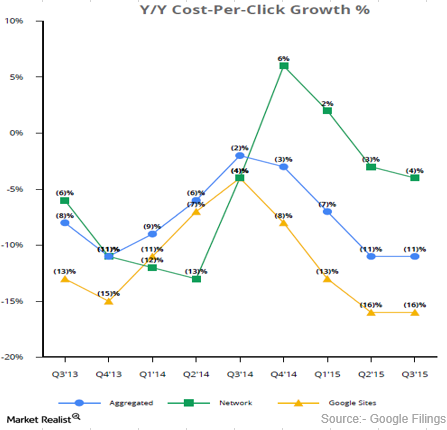 Why Does Google's Cost-Per-Click Growth Keep Falling?
By Parker Thomas

Jan. 26 2016, Updated 12:07 a.m. ET
Exposure to the international market
Google's (GOOG) cost-per-click (or CPC) metric has continued to decline. The pace of this decline has accelerated over the last few quarters, as the chart below shows. The main reason for this decline is growing exposure to the international market and a change in property mix.
In 3Q15, Google earned about 53% of its revenue from the international markets, which shows that Google's exposure to European (EFA) and Asian markets remains high compared to the domestic market. But the significant exposure to international markets means the strengthening dollar affected Google. It also impacts the entire tech sector. Internet companies such as Facebook (FB), Twitter (TWTR), and Amazon (AMZN) feel a larger impact on their revenues for the stronger dollar. According to Bloomberg, the US dollar hit a seven-month high against the euro in October 2015.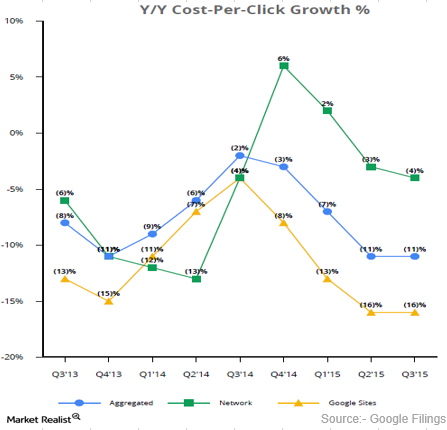 Article continues below advertisement
Property mix
In 3Q15, the CPC metric fell 16% on Google's own websites. As the above chart shows, the CPC decline on Google's own websites remains higher than Google's overall CPC decline. Google Search has higher ad pricing than display ads like YouTube ads. The problem is that Google's search ad business is getting saturated. Now, the bulk of Google's revenue growth comes from display ad businesses like YouTube.
Google's search ads carry higher ad pricing than YouTube display ads. This is because search ads appear on search results pages when a user's looking for specific information. As a result, these ads have higher user engagement. This commands higher ad pricing. This decline in search CPC is pressuring overall CPCs for Google's own websites.