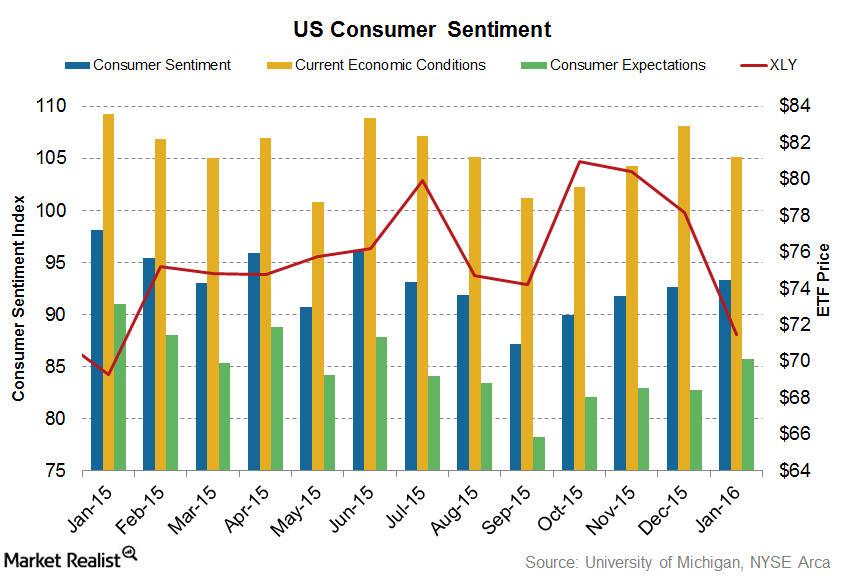 Future Expectations and Consumer Sentiment Rise
Consumer sentiment rises to 93.3
According to the University of Michigan, the consumer sentiment preliminary index rose to 93.3 in January 2016 from 92.6 in December 2015. Though the income level is rising, consumer spending remains mixed in January.
As a result, the Consumer Discretionary Select Sector SPDR ETF (XLY) fell 10.9% over the month ended on January 15. The Walt Disney Company (DIS), The Home Depot (HD), Nike (NKE), and Comcast (CMCSA) fell by 17.5%, 10.3%, 12.1%, and 8.2%, respectively, over the month ended January 15.
Article continues below advertisement
Article continues below advertisement
Future expectations turn more positive in January
Surveys of Consumers chief economist Richard Curtin stated that "consumer confidence inched upward for the fourth consecutive month due to more positive expectations for future economic growth. Personal financial prospects have remained largely unchanged during the past year at the most favorable levels since 2007 largely due to trends in inflation rather than wages. Indeed, expected wage gains fell to their lowest level in a year in early January, but were more than offset by declines in the expected inflation rate."
Consumer current condition index falls to 105.1
In January 2016, the index of current conditions fell to 105.1 from 108.1 in December 2015. In contrast, future expectations rose to 85.7 from the 82.7 seen in December. Though consumer sentiment has increased by 0.8% in January 2016, this figure has declined by 4.9% from a year ago.
The lower prices have boosted consumer expectations about the economy. With improved consumer sentiment, there may be greater consumer spending in the economy, which may translate into faster economic growth. We'll discuss how improved consumer sentiment may impact retail sales in the next part of this series.